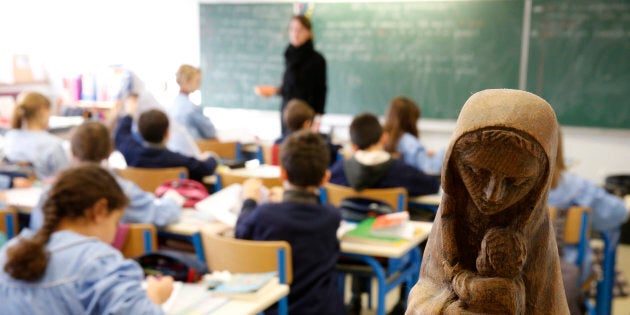 Special religious education (SRE) has no business in public schools. The system in which special religious education is the default option and special education in ethics is opt in only, and only then when volunteers are available, must be changed.
We are constantly told how tight the curriculum is, and subjects such as languages, for example, often don't make the cut. Yet each week half an hour is lost to religious education, and an invaluable opportunity to teach our children goes with it.
Yes, ethics is available in many schools, assuming there is an effort to coordinate the delivery of these classes. But this is not a consistent offering across NSW as although the Department of Education states that ethics should be offered, it is dependent on the availability of volunteers who are not provided by the Department. SRE instruction is mandated by the Department, which again does not provide the teachers who are instead approved by whichever religious persuasion they're representing. This is confusing and inconsistent and parents would not stand for it in any other circumstance.
In 2010, an amendment to the Education Act made the concession to allow parents and caregivers to opt their children out of SRE in order to attend special ethics education. But you have to opt out; the default is that you will attend the SRE class of the religion you declared at enrollment. Ethics class is offered only after you have opted out of SRE initially.
If ethics is unavailable, it is then the responsibility of the school principal to 'support' SRE by "ensuring that no academic instruction or formal school activities occur during time set aside for special religious education. Such activities create conflict of choice for some parents and students attending special religious education".
We should devolve responsibility for religious education back to where it belongs: in families and religious institutions.
Surely it is the obligation of public schools to be educating our children and engaging them in a productive activity at every opportunity and that to not do so is a neglect of their duty of care. If the activity cannot be delivered to the whole school, remove it from the core curriculum and conduct it outside of school hours. Or better still, devolve responsibility for religious education back to where it belongs: in families and religious institutions.
It's time to stop accepting this system and start demanding a considered alternative; this should not be dependent on the ability of the school to coordinate ethics classes, or the availability of volunteer ethics teachers. Ethics should be the default for all children: it is necessary, applicable to kids from all walks of life, socially relevant and key to nurturing and educating upstanding citizens of tomorrow.
It is time for secular families, progressives, and anyone who values the importance of the separation of church and state to demand change in NSW public schools. Fairness in Religion in Schools cites the victory last year in getting SRE removed from the curriculum in Victorian public schools as a big turning point, and it is looking to take the movement to NSW.
Let's call time on this outdated, divisive element of the curriculum; let's embrace multiculturalism, critical thinking, debate and inclusivity, for the sake of all of our children.
If you would like to submit a blog to HuffPost Australia, send a 500-800-word post through to blogteam@huffingtonpost.com.au
ALSO ON HUFFPOST AUSTRALIA