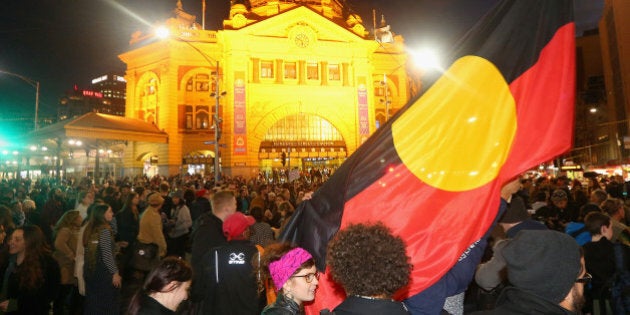 Aboriginal and Torres Strait Islander people are being forced off our land due to the extractive industries that fuel dangerous climate change and, more and more, by the devastating impacts of sea level rise, drought and lack of access to clean water.
While world leaders gather in Paris to determine a new deal to limit global warming, millions of people across the globe will be hitting the streets calling for stronger action on climate change from politicians and from ourselves.
We know that climate change is the greatest threat to humanity but what many haven't yet recognised is that a key part of this crisis is the loss of Indigenous land, cultures and livelihoods. In order to build just solutions, we need to see that the fight to stop the forced closure of Indigenous communities goes hand and hand with solving the climate crisis.
The extractive system that we live in tells us that it's okay to dig up our land, that it's okay to take without giving back and that it's okay for some to gain while the rest lose. But enough is enough.
It's coming up to a year now since WA Premier Colin Barnett's announcement of the forced closures of remote Indigenous communities. For our people, this is a reminder that all across the country we have been forcefully removed from our homelands ever since colonisation.
Our government is well aware of the devastating impacts that their relationship with the fossil fuel industry is having on communities across the world, yet they are not prepared to take this global humanitarian crisis seriously.
November 27 marks the 5th Global Call to Action, with Stop the Forced Closure rallies planned all across the country. SOSBLAKAUSTRALIA have released an official statement addressed to worldwide friends at the People's Climate Marches that begins with the following:
"We, the Original Sovereign countrymen and women of this land, call on the wider world for your urgent support as we continue to face the threat of forced community closures. Ever since Tony Abbott made his infamous "lifestyle choices" comment, demonstrating his complete disregard and lack of insight into our culture, it has given us heart to see people around the world standing up to defend our right to live freely on our own country in accordance with the UN Declaration on the Rights of Indigenous Peoples."
As a young Aboriginal and South Sea Islander woman, I strongly believe that today is a great opportunity for our movements to come together. The global response to climate change so far is also a threat to the UN Declaration on the Rights of Indigenous Peoples. If the world valued the lives of black and brown people just as much as they did white people, then maybe we would have already cleaned up this mess.
Climate change challenges life as we all know it -- and the way we deal with it determines how we live, where we live and if we live. By building a movement with justice at the core, we can build a world where every community can live and thrive, not just survive.
Imagine a world where the lives of all people are valued equally, where together we stand up for each other despite the colour of our skin, the amount of money in our pockets, or whether the problem is in my backyard or yours. To change everything, we need everyone.
But right now this world is only a part of our vision -- it's up to us to create it.
Today we can start by standing up for Aboriginal and Torres Strait Islander communities who have been forced off country since colonisation and since polluting industries started digging up our land. Now, unless we rapidly change our ways, many more communities will be forced to leave their homes due to the impacts of global warming that give us no other choice.
SOSBLAKAUSTRALIA are calling for us to stand up together, "In customary law, it is the duty of the strong to defend the vulnerable and now we are asking as clearly as possible that you stand beside us to avert the disaster that such closures would bring. We know we can win, but we need your help to secure strong, sustainable, self-determining communities."
What gives me hope is that we're making history. As today's rally in Melbourne kicks off global marches all around the world, it will be Aboriginal and Torres Strait Islander people, a part of the world's oldest living culture, who are leading this movement. We are demonstrating that not only are our people on the frontlines of the causes and impacts of climate change but we are at the forefront of creating positive change for all people.
It is possible for our movements to combine efforts in limiting global warming, reducing inequality, tackling racism and building a future that that every person has something to fight for.
We can't wait around for the world leaders and the empty promises they may bring, because we know that doesn't end well. We also can't tackle these issues alone. It's time for us to go back to our roots where core to surviving is looking out for each other. There's no use in sympathy any more, it's time we work towards real solidarity.
Amelia Telford, a young Aboriginal and South Sea Islander woman, is the National Director of the Seed Indigenous Youth Climate Network. She is the 2015 Australian Geographic Young Conservationist of the Year, Bob Brown's Young Environmentalist of the Year and 2014 National NAIDOC Youth of the Year.