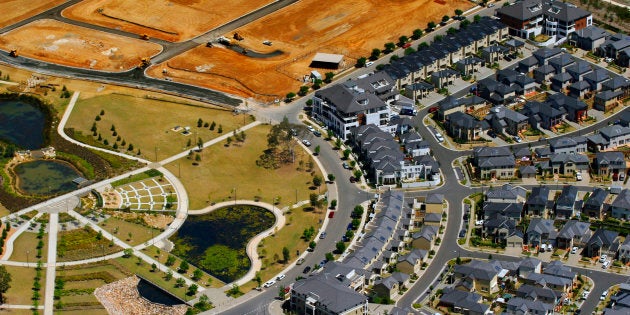 Is the Great Australian Dream of home ownership over, or are we just being fussy?
If you want to live centrally in Sydney or Melbourne, say within 15km of Melbourne in a house, or within 20km of Sydney in a house, you definitely have an argument about affordability. But if you look at the outer suburbs, still within the metropolitan areas of each CBD, or you are in another state, there are still a vast number of affordable properties available.
In my opinion, most first-home buyers just have their sights set too high, without feeling they should compromise. Isn't this self-entitlement the real issue?
Yes, prices in many areas are rising, and it has become more difficult for younger people to purchase within a convenient distance to their family, places of work, and the CBD. However, according to research by Aussie Home Loans and CoreLogic, there are a number of suburbs that are still relatively affordable within 20km of several major cities in Australia. There are many more affordable suburbs if you consider townhouses, and more again if apartments or units are considered.
Most suburbs in Queensland, while they may be rising in price, are still very affordable. A quick search on any housing site will reveal several suburbs that are affordable. There is no reason why young people can't buy in these suburbs. If they really want to live closer to the CBD, they could consider buying a unit or townhouse for the same price as a house further out. Younger people can actually get into the market, but they might need to compromise.
Many millennials are not willing to live further out, they feel they deserve to live where their parents live or within 5-10km of the CBD.
It's fair to say that a 5 percent deposit plus stamp duty is a fair bit to save for many people, but the reality is many of these first-home buyers are undisciplined and enjoy a certain lifestyle that they don't want to compromise. Simply, they feel entitled. Many are not willing to live further out, they feel they deserve to live where their parents live or within 5-10km of the CBD.
While people are having to borrow more money to buy somewhere compared to previous generations, baby boomers paid up to four times higher repayments, with interest rates getting up to 17 percent toward the end of the 1980s. It is not actually any more difficult to afford the repayments on a loan when comparing incomes and interest rates now to the incomes and rates applicable 20 years ago.
Let's look at the options:
Some lenders will lend up to 95 percent and add the lenders mortgage insurance on top and do not require any genuine savings from the borrower, so some lenders doors are still wide open for first-home buyers.
Younger first-home buyers can decide to rent where they want to live, then buy an investment property, called 'rentvesting'. With the aid of rental income and any applicable tax benefits, they will be provided assistance in paying the repayments on that property, keep it for a few years and then sell it, and use the growth in equity toward perhaps a better property than what they otherwise could have purchased.
Some lenders can also allow a security guarantee to be provided. In this situation, a relative or friend is prepared to use the equity in their own home to guarantee the deposit of the borrower.
The bottom line is there are still numerous solutions from a finance perspective, and, from a property perspective. First-home buyers just need to learn to compromise as to where they are prepared to live to get a foot in the property door. The great Australian dream still lives.