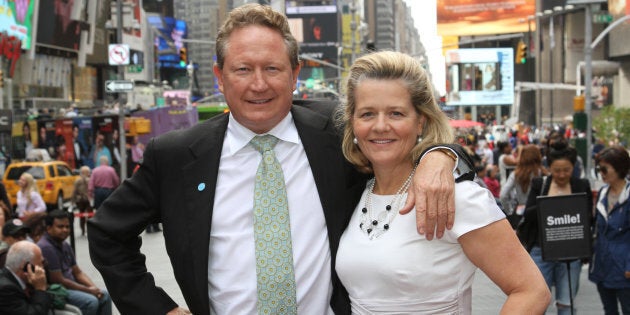 Social revolutions start by picking battles you can win. The Minderoo Foundation has chosen six battles to revolutionise our world, give hope to future generations and galvanise us in a spirit of collaboration.
The battles have been strategically selected. They are audacious. But we are confident that they can be won.
Through a $400 million donation, my wife Nicola and I have drawn the battle lines through which we are seeking urgent change. We want to make cancer non-lethal for the next generation; eliminate modern day slavery; end disparity between indigenous and non-indigenous Australians; ensure every Australian child has the best possible chance to thrive; lure the world's brightest minds to Australia to conduct breakthrough research, and support the fabric of society through the arts, culture, environmental, community and small organisations that positively impact the lives of underprivileged communities and individuals.
Winning these challenges has the power to revolutionise our nation and our world by supporting humankind literally from the moment of conception, to resetting their pathways of life and helping our most vulnerable people and communities.
Giving is truly the most satisfying form of investment, and it is with enormous satisfaction that we honour our Giving Pledge, where we intend to donate most of our wealth during our lifetime. This $400 million is a living donation, and it starts now.
A revolution needs momentum. It needs people to believe in the vision and galvanise in a spirit of collaboration and single-minded focus and support to fight and win each battle.
We start the hard conversations that need to be had around some of the world's most critical problems, and then we use our resources strategically to work with others to find solutions.
We invest in people. I am a firm believer in giving someone a fishing rod rather than a fish. Collaborating with the best minds, research, ideas and passion to unlock solutions to society's most complex problems. Creating the opportunities, spaces and drivers for deeper, smarter and international collaboration.
A balanced, successful and productive society is not the responsibility of one sector alone. Australia's and our world's future success will depend on the public and private sectors working with civil society to address our most pressing challenges.
Our vision for positive change is winnable. We will build on the excellent work being done in existing areas as well as establish new global platforms. We are ready for battle on the world's toughest and most critical issues.
We want to make cancer non-lethal for coming generations and ensure cancer is not lifestyle-debilitating. Winning this battle will transform and touch every life. The Eliminate Cancer Initiative will work with the finest minds and institutions in Australia and internationally. The $75 million is planning capital to encourage the global cancer industry to specialise and coordinate their efforts.
We know that cancer is thousands of diseases, and there are many ways to tackle it. The ECI will focus on five key areas: prevention, drug development, artificial intelligence and digital technology, international clinical trials, and patient care.
While we are a generous nation in many ways, our philanthropic culture is not as strong as it could be.
Ending the scourge of modern-day slavery is another battle. An estimated 46 million people in our world are trapped and violated in atrocious conditions from which they have no escape. We will boost the efforts of the Walk Free Foundation with a $75 million investment to continue its alliances and strategic work with governments, businesses, religious faiths and international institutions, and leading human rights and anti-slavery groups.
Significantly, the Walk Free Foundation has been pushing for legislative change in Australia and the introduction of an Australian Modern Slavery Act -- similar to one already legislated in the UK.
A Parliamentary Inquiry into this is currently underway and I congratulate the Australian Government for its leadership in pursuing a deeper understanding of this insidious crime.
The Australian and Indonesian Governments in 2002 formed the Bali Process, which now involves 45 governments of the Indo-Pacific region and numerous intergovernmental agencies. The entire collaboration is focussing on modern slavery and, in partnership with Walk Free, is attracting the foremost business leaders of each country to represent their economic communities in an unprecedented government and business joint initiative to draw the curtain on modern slavery in our massive region of the world.
This is a fight worthy of everyone's attention.
The battle to end disparity between Indigenous and non-Indigenous Australians will see a further $50 million investment that will encourage education, training and employment initiatives that help to remove obstacles in people's lives. The donation will help to fund Indigenous employment, improve school attendance and welfare reform.
From the moment of conception, each one of our lives is set on a pathway. Some paths are thwarted with hurdles, brick walls and unimaginable suffering, while other paths are fortunate to be clearer and filled with opportunity. Our vision and hope is to re-landscape the pathways of life for our most vulnerable humans, from the earliest age.
Investing in early childhood development will prove one of the best returns on investment as we ensure every Australian child has the best possible chance to thrive. This will include the creation of a blueprint around the development of children in the critical years (from conception to five years old) that can become a global prototype.
The Minderoo Foundation, together with the Telethon Kids Institute, has formed a partnership called CoLab -- a collaborative platform to improve service delivery and community capacity and to enhance our understanding of what it takes to nurture strong future generations of children.
We will work with families, in their communities, to find out what solutions work and why. We will learn from other nations and share our Australian successes.
MORE FROM ANDREW FORREST:
Around the globe there are endless brilliant minds already immersed in the fight to end diseases, understand our world and contribute to our vision of a brighter and better future for all our children. Nicola and I will invite them to Australia to collaborate in breakthrough research.
The Forrest Research Foundation already supports national and international scholars in exciting research across Epigenetics, Biodiversity, Muscular Dystrophy, Water Filtration, Geo-technical Science, Biomedical Science, Archaeology, Rock Art and Conservation. A further $65 million contribution will expand the collaborative opportunities between all five WA universities and a further $10 million has been pledged to encourage all Australian universities to take part.
Australia will be at the headquarters of future significant discoveries and research. The best minds will be lured to our shores and engaged in our audacious world-changing revolution.
Our final winnable battle is to strengthen Australia's community sector and natural beauty. The fabric of society begins and is sustained at community grassroots. We can't have a world-class nation without healthy, vibrant and functioning communities and environments.
A $50 million investment will be made to create real, measurable change for vulnerable Australians; support art and cultural initiatives; and preserve, enhance and drive enjoyment of Australia's large and diverse natural environment including our expansive coastline and parklands.
A revolution needs momentum. It needs people to believe in the vision and galvanise in a spirit of collaboration and single-minded focus and support to fight and win each battle.
Nicola and I publicly announced this donation to reset the giving culture in Australia. While we are a generous nation in many ways, our philanthropic culture is not as strong as it could be. Nicola and I hope to encourage others to give. Philanthropy is not just about giving money and it is not just the domain of the rich, it is the domain of all of us. People's time, energy, commitment and other resources are equally worthy gifts.
We all have something to give.
ALSO ON HUFFPOST AUSTRALIA