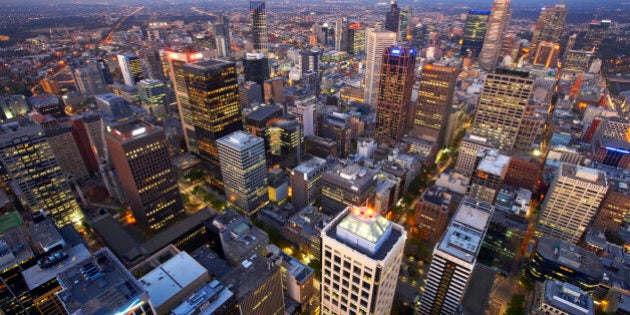 Following the resignation of Jamie Briggs as Minister for Cities and the Built Environment, it now seems the Prime Minister will wait until Warren Truss decides whether he will contest the next election before filling this vacancy.
If Mr Turnbull's rhetoric is to be believed and cities policy is at the forefront of his agenda, then this isn't good enough. After two wasted years in which Tony Abbott pretended we weren't a highly urbanised nation, Australia's future can't afford another hiatus. Nor can the four in five Australians who live and work in our cities.
That said, this is hardly a surprise given the way the portfolio itself has been treated under our new Prime Minister. Let's match his words to his deeds. It was allocated to Mr Briggs seemingly as a consolation prize -- only after it was declined by Bruce Billson. This is a pretty clear indication of how important Mr Turnbull really thought these responsibilities are. Last place in his ministerial pecking order.
Not forgetting that Mr Briggs had enthusiastically served under Mr Abbott as the Junior Infrastructure Minister as the conservatives dismantled the structures that had supported urban policy making in Australia, in particular the Major Cities Unit.
More than this, the appointment of a Minister for Cities was also in the context of a confused approach to urban Australia, which saw administrative responsibility located with the Environment Department rather than Infrastructure. It also had this junior minister sharing responsibilities for our cities with a wide range of colleagues including the Deputy Prime Minister (that known urbanist, Mr Truss of Wide Bay) and the Minister for Major Projects.
So, now's not the time to hit the pause button.
With due respect to Greg Hunt, who has temporarily been passed the baton, it's a matter of urgency for Mr Turnbull to start fixing this mess he inherited. And to match his actions to his statements.
It shouldn't be a matter of political point scoring. We are talking about a central plank of our productivity challenge and about liveability for the great majority of Australians.
We are not only one of the the world's most urbanised nations, this trend is increasing. With the population of Australian cities such as Melbourne likely to almost double by 2051, we can't afford to continue sitting on our hands.
Shadow Minister for Cities Anthony Albanese has filled the void left by our disengaged and disconnected government. He has brought together stakeholders from across the political spectrum in an urban policy dialogue and set out a 10-point plan for Australia in a speech to the national press club well over a year ago.
This kind of policy development in the first year a term of opposition is almost unprecedented, but someone needed to do it. And the plan is on table for the government to respond to.
When Malcolm Turnbull came to the Prime Ministership, he intimated that urban policy would take its proper place at the centre of national debate.
Then, late last year, the government released its first policy touching on cities since the election, and missing was the re-establishment of the Major Cities Unit. What was there was the continued unfair financial punishment for Victoria for not pursuing the flawed East West Link and the continued support for the unplanned and unpopular Perth Freight Link.
And our concern is not only for our major state capitals. As a Melbournian, I'd be the last to suggest my hometown isn't worthy of national interests. But Labor is just as concerned for the residents of all those places from Launceston to Cairns as with supporting the global cities aspirations of Sydney and Melbourne.
So Labor's Cities Taskforce, of which I am the chair, is starting 2016 with a listening tour, going to regional cities to hear first hand about the challenges and opportunities the national government should be concerned with. And to demonstrate that the people who live in them are not second-class citizens. I'm looking forward to getting to Rockhampton and Newcastle this month, and to responding to all those who've expressed an interest in engaging with us from around this country.
I agree with the Prime Minister when he says that "liveable, vibrant cities are absolutely critical to our prosperity". But when we look at congestion, housing costs and access to social and cultural amenity, our cities are not only holding back growth they are boosting inequity -- undermining social cohesion.
Mr Turnbull loves to talk about cities, but is much less interested in engaging with the challenges of supporting urban policy making.
If cities are really important to the Prime Minister, he can show this by replacing the empty chair that is presently his Minister for Cities. Now.