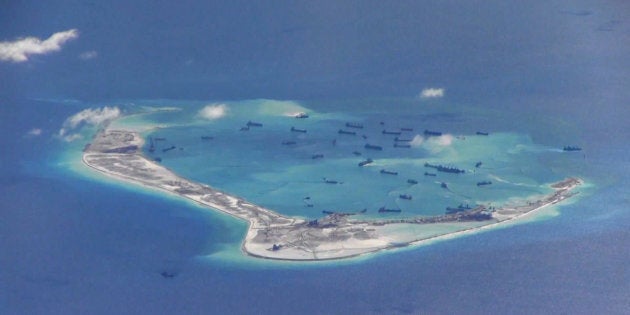 Regional tensions have escalated sharply in response to this week's finding in the arbitral tribunal hearing in The Hague, which has found in favour of the Philippines in their case against China's claims in the South China Sea. In their strongly worded 11 page press release, the Permanent Court of Arbitration (PCA) presented a number of key findings regarding the Sino-Philippine dispute. This blog post outlines these findings, then interprets their implications for regional international relations and for Australia.
What was the tribunal's ruling?
The PCA rejected China's opaque nine-dash line claim to historic rights in the maritime spaces of the South China Sea. Significantly, the PCA ruling dismissed the notion of pre-existing rights to maritime resources in existing exclusive economic zones (EEZs), finding that the United Nations Convention on the Law of the Sea (UNCLOS) provides states with only limited access to fisheries in an EEZ and no right of access to petroleum or mineral resources in other states' EEZs. This finding is significant, given China's growing need for energy resources and estimates of the substantial petroleum and mineral resources lying beneath the South China Sea seabed.
The tribunal also considered China's claims that it has historic right of access to these resources based on its historical record of regional fishing. Whilst the tribunal agreed China had such a record, it found China was one of many littoral states with such a record and crucially, that prior to UNCLOS, these waters constituted part of the high seas, as opposed to territorial waters. Consequently, China's pre-UNCLOS use of these waters represented the exercise of freedom to use the high seas for navigational and fishing purposes rather than exclusive use of sovereign waters. The tribunal found no evidence that at any time in the historical record had China attempted to enforce its exclusive control of these waters or prevent other states from exploiting its resources.
More controversially, the PCA tribunal ruled on the legal status of the natural features of the South China Sea, ruling that none of these constitute 'islands' under UNCLOS. Accordingly, this means that none of these naturally formed features legally qualify for the 12 nautical mile territorial sea, 200 nautical mile EEZ or continental shelf claim to which features deemed islands under UNCLOS definitions are entitled.
Such a ruling denies China or other claimant states the legal basis to enforce such EEZs, which is significant not just for its implications for resource exploitation. This ruling also denies China the legal basis to deny maritime passage and overflight to states wishing to traverse the South China Sea. This outcome will have legal implications should China wish to declare an Air Defense Identification Zone (ADIZ) over these waters, as it did in 2013 in the East China Sea over its dispute with Japan over the Senkaku/Diaoyu Islands, and as has been previously speculated.
What does this mean for regional international relations?
In the short-term, the PCA ruling -- which was widely expected to favour the Philippines, though has surprised analysts by the extent to which it has dismissed Beijing's claims -- will further destabilise the region's already tense political dynamic. The ruling from The Hague has already stirred domestic nationalist sentiment, both in China and the Philippines.
In China, this can be seen from the strident reporting in the domestic media, such as the China Daily and Xinhua News, with headlines such as 'inherently biased and unjust' being a fair summation of nationalist Chinese sentiment. Upon announcement of the ruling -- which had been anticipated by Beijing -- China's Ministry of Foreign Affairs immediately released a policy paper rejecting the decision from The Hague, re-affirming the islands of the South China Sea (Nanhai Zhudao) as China's 'inherent territory' in direct contradiction to the PCA's findings.
Confusingly, in light of the PCA ruling, China has announced it will continue to abide by international law. However, given that Beijing is a signatory to UNCLOS under whose arbitration this dispute was heard, and is hence legally bound by the ruling, it remains unclear which international law Beijing is referring to. Which gets to the crux: that as such rulings are unenforceable, they ultimately expose the delicate and unstable nature of international relations.
Similarly, news reports from Manila have been equally unequivocal in their support for the announcement from The Hague, and have predictably urged China to respect the decision and abide by the PCA ruling.
Both sides of the dispute have shown a lack of respect for the authority of the tribunal. Pre-empting a negative outcome from The Hague, Beijing announced it would reject the ruling prior to the PCA decision. Similarly, Philippine President Duterte had previously been equally dismissive of the PCA's authority. For example, in April Duterte announced he would only support a PCA outcome if it ruled in favour of the Phillipines, showing a similar contempt for the tribunal process as China.
More worringly, Duterte has shown his naivety in foreign affairs by flagging a preparedness to trade Philippine sovereignty rights in the South China Sea in return for Chinese foreign direct investment (FDI) in domestic infrastructure projects. The Philippines, chronically impoverished and with a history of poor governance and widespread corruption, is badly in need of economic development. Consequently, Duterte, who is keen to invest in railways, such as around Mindano and from Manila to Bicol, has flagged a willingness to 'shut up' about Philippine claims in the South China Sea if Beijing proves willing to foot the development cost.
This is both foolhardy and worringly naive. Scarborough Shoal is approximately 124 nautical miles off the coast of Luzon. Should Manila under Duterte allow China to establish a military foothold in the Spratlys, such an emplacement would present an existential threat to the Philippines, providing Beijing with a convenient launching pad from which it could project power. Hence, in the long term, the cost of ceding sovereign control of these islands well exceeds any short-term economic gains.
Elsewhere in the region this decision is reverberating. Given the favourable outcome for the Philippines, the PCA's ruling may encourage other claimant states, such as Vietnam, Malaysia and Brunei to seek international arbitration over their disputes with Beijing. This would mark a new forward-leaning approach to dealing with China, the rising regional power.
To date, the preparedness of regional states to counter Chinese assertiveness with more direct action has been moderated by their trade ties with Beijing and their ongoing need for continued Chinese economic investment. Recently, however, Indonesia -- which does not have a territorial dispute with China though does have a bilateral resource dispute regarding access to fishing waters surrounding the Natuna Islands -- has taken a more overtly direct approach to dealing with states which encroach on its territorial waters. This approach has been marked by Jakarta's willingness to enforce its sovereignty by impounding and destroying boats which fish inside its declared EEZ, regardless of their country of origin, as well as by planning to upgrade its Natuna military base.
Combined with the success of Manila's case, such approaches might encourage increased pushback from claimant states against China's regional maritime territorial claims. Certainly such states would be able to point to the PCA ruling and its rejection of China's nine-dash line as potentially supportive of their claims, and encourage them to seek international arbitration, particularly given the ongoing failure of the Association of Southeast Asian Nations (ASEAN) as a multilateral mechanism to resolve South China Sea issues. Indonesia's willingness to defend its territorial waters might even encourage regional states to more vigorously defend their claims, given the failure of both diplomatic and multilateral approaches to coerce China into refraining from exploiting the maritime resources of other states' claimed territorial waters.
All of which proves that while providing a legal resolution to the Philippines' case against China, the PCA ruling ultimately resolves nothing. If anything, regional tensions have increased due to the ruling, and while welcomed by most regional states, instability will increase as states digest the outcome and consider how best to shape their responses to China in light of the ruling.
What does this mean for Australia?
Canberra has been clear in its resolution to back international norms and laws in relation to South China Sea disputes. Though viewed by many as code for supporting Washington's ongoing primacy as the predominant provider of regional stability, it is undoubtedly in Australia's interests to continue to insist states abide by applicable international law, and in this instance this means UNCLOS.
Though rejected by China, the PCA ruling does provide states with a legal basis to conduct freedom of navigation operations (FONOPS) within and above waters claimed as territorial by Beijing but rejected as such in The Hague ruling. It is likely Canberra will increase the tempo of its FONOPS operations in the South China Sea, both in response to the ruling, and as a demonstrative means of exercising its freedom of the high seas.
Largely dependent on maritime trade routes through the South China Sea for its imported goods, Canberra will continue to resist any attempt by Beijing to reframe the South China Sea as Chinese territory. Australia will use the PCA ruling as providing a legal justification to assert its right to freely navigate the waters and skies of the South China Sea. This is important, for by continuing to do so -- and by encouraging regional states to follow suit -- Canberra will hope such actions have a normative effect on how these waters are viewed, and will provide an effective counter to Chinese claims recently disproven in international law.