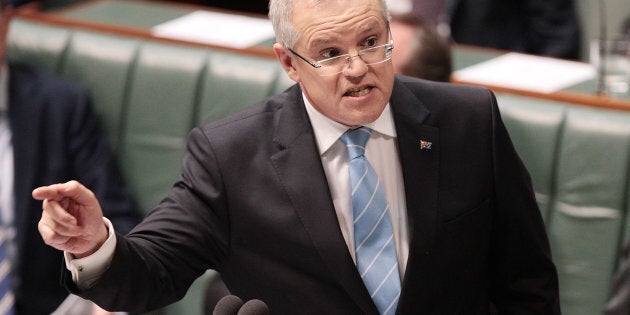 Australia's "coveted" triple-A credit rating is in the news again. In mid-2016, the S&P Global Ratings agency put the Commonwealth's triple-A credit rating on a "negative outlook", meaning a downgrade is a real possibility.
Late last year, in the lead up to his mid-year budget update, the federal Treasurer Scott Morrison up-ended it and warned that there is a "real risk" the rating will be dropped a notch.
The government is using the threat of losing the triple-A rating to push through its deeply abhorrent agenda of so-called welfare reform.
The State Governments are also using the triple-A rating as a benchmark. For example, this week the NSW Treasurer Dominic Perrottet said that the NSW budget will be managed with the strict discipline consistent with a triple-A credit rating even if there is a Commonwealth government credit downgrade.
Mr Perrottet reminded that the NSW Fiscal Responsibility Act, introduced by the O'Farrell Government in 2012, requires "remedial measures" -- potentially spending cuts or tax increases -- to protect the State's triple-A credit rating.
It raises a fundamental question: to whom does the accountability of a democratic government lie? Should a democratic government be hostage to credit rating agencies? Do the credit rating agencies have any vested interest?
These are important questions, because not long ago the credit rating agencies were found either incompetent or acted with insider knowledge that contributed to the global financial crisis in 2008-2009. The US Congress was in favour of prosecuting the rating agencies involved.
Australia's credit rating was downgraded in 1986 and it remained there until 2011. Yet, during this period the sky didn't fall down, or the ground did not shift. Instead, Australia not only successfully withstood the Asian and Global Financial Crisis, but also enjoyed the longest period of economic boom.
Australia has been the envy of other developed nations until it began causing self-inflicted wounds with an ideologically driven obsession with budget deficits and debts when its infrastructure is decaying, the public health system is crumbling and the education system is failing.
the first place to look at raising tax revenue is by addressing the loopholes that allow evasion and avoidance -- not introducing new tax or raising tax rates.
Public policy must not become a hostage of rating agencies.
Nevertheless, managing the government's fiscal affairs efficiently is a legitimate issue, regardless of how credit-rating agencies perceive it.
But before acting, a number of issues need to be examined very carefully. It would be self-defeating when, for example, cuts in company income tax rate do not generate more investment, as research both at the OECD and the IMF shows.
Research also reveals that governments around the world are losing significant amounts of revenue due to tax evasion and avoidance, especially by big corporations. The OECD conservatively puts this figure at US$100-240 billion annually, or anywhere from 4-10 percent of global corporate income tax revenues. One study finds that Australia is losing $6bn annual revenue due to multinational tax dodging.
Therefore, the first place to look at raising tax revenue is by addressing the loopholes that allow evasion and avoidance -- not introducing new tax or raising tax rates.
Extreme care is also required when considering expenditure cuts. The IMF has warned against fiscal consolidation, especially through deep cuts in public expenditure at the time of slow growth.
It can have a permanent negative effect on trend productivity levels, trend productivity growth as well as wage growth that, in turn, sustains low aggregate demand. It is also contributing to rising inequality risking social cohesion and political stability -- none of which is good for investor confidence, and jobs and growth.
If you would like to submit a blog to HuffPost Australia, send a 500-800-word post through to blogteam@huffingtonpost.com.au
ALSO ON HUFFPOST AUSTRALIA