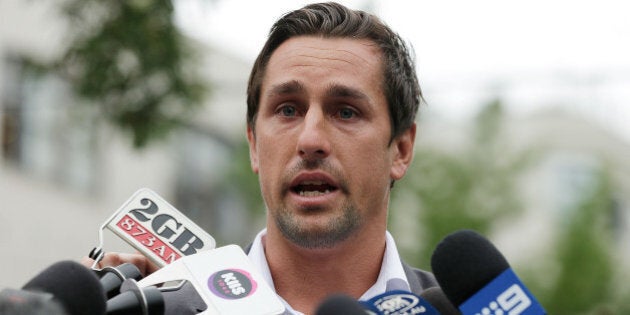 In the two-minute clip bought by the media, the inebriated Roosters halfback appeared to simulate a sex act on a dog, grab at a woman and babble nonsensically before being booted from someone's apartment, accused of urinating on their couch.
Mitchell Pearce's behaviour was more than ugly. It was a sad and hard-to-digest snapshot of Australia's binge-drinking epidemic. To argue that this incident is uniquely NRL's or Pearce's problem dismisses the wider truth of our culture of the bottle.
In its 2015 annual alcohol report, the Foundation for Alcohol and Research Education (FARE) found that 79 percent of Australians consume alcohol. Ironically, 92 percent of those surveyed classed themselves as 'responsible drinkers' while 34 percent admitted to drinking to get drunk.
And we're destructive on the turps: 30 percent have been affected by alcohol-related violence, 43 percent admitted to having vomited after alcohol consumption, 22 percent to driving under the influence and 20 percent to arguing while intoxicated. Three-quarters of those surveyed believe Australia has a problem with alcohol.
But what if Pearce genuinely needs help, as he claims he does?
Fortunately, for most of those abusing alcohol, their rock-bottom moment isn't broadcast across the world. One of the last times I drank, I lost my room key during a big night out. Panda-eyed and knobby-kneed, I curled up in a sorry heap at the foot of the hotel elevator, while tourist couples and small children ogled my pathetic state. I'd hate for this image of me at my worst (and far removed from the sober person I am) to be captured by a stranger and posted for public review.
To be caught in the binge-drinking cycle makes little sense to those who haven't experienced what it's like to have one beer and suddenly reach for your 10th. It is impossible to understand how a person can drink and behave like a self-righteous fool, then continue to drink.
Like many Australians, myself included, alcohol is a social lubricant for Pearce. This doesn't make him an bad person or role model, just someone who needs help.
The fact that Pearce is a well-paid public figure isn't fodder for scorn but concern; what causes such a promising young man to drink to the point of oblivion? What was bothering Pearce so much he had to act through drunken aggression and self-destruction?
To examine drunken behaviour with compassion is not to excuse it, but exactly the opposite; to hold those accountable while giving them an opportunity to address their issues. And Mitchell Pearce is doing just that.
And by allowing Pearce to change, we're also affording our beer-soaked culture a second chance.