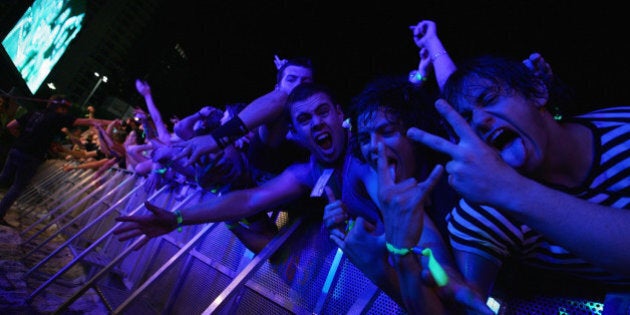 Aristotle said of 'the young': Their lives are regulated more by moral feeling than by reasoning... All their mistakes are in the direction of doing things excessively and vehemently.
This couldn't be more evident during Schoolies Week.
Booze. Arrests. Drugs. Assaults. Spew. Noise. Trashed hotel rooms... Teenagers hovering somewhere between adolescence and adulthood, take a week-long reprieve of their senses following their final school exams.
It's that time of year again, when schoolies pack up their beer bongs and newspapers are flooded with angry letters. 'Time to take a stand against schoolies,' wrote one Rockhampton resident to The Morning Bulletin, pleading 'Save our children'.
It's tempting to forge sides: 'us' and 'them'. Especially when your town doubles in size with horny and hopeful teenagers, making every hour at the tattoo shop happy hour.
Byron Bay's population of 9,000 swells five-fold come summertime, over 10,000 of which accounts for school-leavers, pouring in from late November to mid-December. Byron is well-prepared, with the Schoolies HUB on main beach, complete with ping-pong table, pancakes, chai and vintage band-style posters warning against the dangers of Chlamydia.
HUB volunteer Nicqui Yazdi said school-leavers choose Byron over the Gold Coast for a 'chilled out' time. Still, Byron schoolies ruffle feathers. They clog up Woolworths lines and roads, carting sausages and bread to their rentals. They cover main beach in noisy clusters. They stop Johns Street foot traffic to pose for photos. They wear loud printed t-shirts. All teenaged, but hardly offensive behaviour. This is their time.
But for every drunken kid pissing on your KIA, another is making a good decision.
The party sent a clear message from Byron to schoolies: we support you. "We're here to give school leavers the information and opportunity to make good decisions themselves," said Nicqui Yazdi.
Aristotle said: The young have exalted notions, because they have not been humbled by life or learned its necessary limitations; moreover, their hopeful disposition makes them think themselves equal to great things -- and that means having exalted notions.
Until life slaps them in the face, let them party.