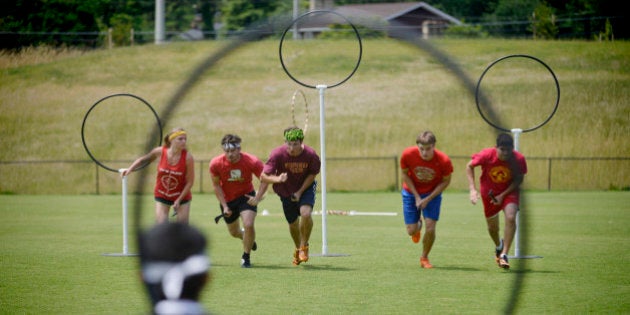 Quidditch: a game popularised by Harry Potter, a gimmick, a safe haven for the unathletic nerd.
Recently, on a sunny Friday afternoon, I put my assumptions aside and went to watch the Brisbane Griffins Quidditch Team practise this pseudo-sport.
"It's a Harry Potter club with a little Quidditch on the side," said a pony-tailed participant wearing a t-shirt stating: 'She needed a hero so she became one'. The brooms are new, she explained, holding up a PVC pipe tipped with pink 'pool noodle' foam.
While the 17 participants lobbed pink balls back and forth, team leader Lee Jensen's singlet gathered sweat while he negotiated the goal posts, his blue eyes widening as he pointed and yelled. Jensen isn't a tyrant; running a Quidditch team is hard work.
Mitch Drage, 21, also known as Hagrid, with his encyclopaedic knowledge of the Quidditch rulebook, backed Jensen. "Good God! In everything that's holy and J.K. Rowling: Do. Not. Drop. Your. Broom," Hagrid yelled at his team. Hagrid has played for three university teams and he credits losing 30 kilos to the broom-and-ball sport.
What a Quidditch game looks like in the wizarding world
Quidditch, for the uninitiated, came from J.K. Rowling's Harry Potter books. Played by wizards, the teams fly on broomsticks to secure goals and try to catch the 'snitch' -- a tiny, gold, insect-like ball. On land, Quidditch is played on a field and the snitch is a person with a sock dangling from their trousers.
The golden snitch in the Harry Potter film series
In July, Australia's national team, the Dropbears, will compete in the International Quidditch Association World Cup in Frankfurt, for the first time.
Perhaps the reason for its surge in popularity is Quidditch's inclusive ethos. Players must be over 16, and the oldest player is about 50, according to Nic Hirst, Head of Media and Marketing at Quidditch Australia. "Most are around 18 to 30 years old."
"There's no A-typical Quidditch player," said Hirst. "It brings everyone together and people tend to become athletic; you're always running and it's full contact. It can be brutal. My own team, the Melbourne Unicorns, don't factor in fitness level when deciding who plays each week, but by commitment and attendance."
At the Brisbane Griffins practice, a woman in a wolf t-shirt takes the field alongside a man in full spandex. Jensen explained gender balance is important, too.
As the teams assembled for a game, one player pointed toward me and yelled "Journalist". Somehow, I agreed to join a side.
After about 60 seconds of field time, all assumptions of this gimmicky, nerd-sport dissolved. Quidditch is tough. Gasping for air, I subbed myself out and my two-minute run was met by encouraging words from Hagrid.
After the three-hour practice, Jensen packed up his artillery (brooms, socks, Minties) while Hargid rallied the troops for final words. When I told him about the 50-year-old player in Melbourne, Hagrid smiled. "Oh, that'll be me. I'll never stop playing."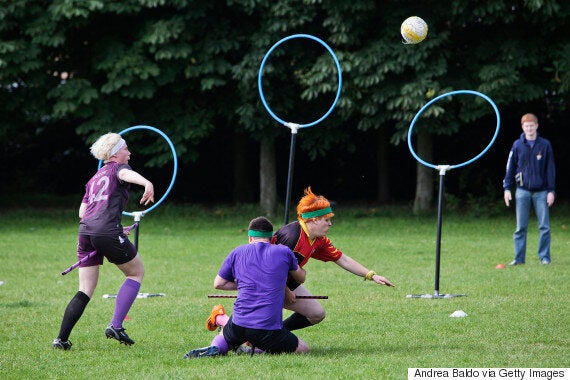 Quidditch in the muggle world
"There's something very free about putting a cape on, and running around with a broom between your legs," wrote Alex Benepe, founder of the International Quidditch Association, on Facebook. "It's this declaration like, I don't care if I look silly, I'm having a great time."
In a sporting sphere saturated by million-dollar contracts and packed stadiums, stand this group of Harry Potter aficionados proudly holding the PVC brooms they paid for, because of the love of the game. If that isn't sport, I don't know what is.