Annabelle Hickson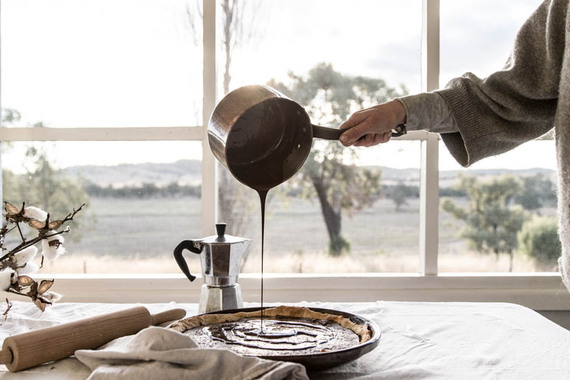 Pic: Annabelle Hickson, www.the-dailys.com
Now that the days are getting longer and, most importantly, warmer, I've started thinking about Sunday lunches outside. Very casual ones at a long table with whoever's around. A glass of prosecco in hand, a pack of children playing and a chicken or two roasting in the oven with garlic, lemon and rosemary, a quick rocket salad and crusty bread. Nothing flash, just good, tasty and easy food. For dessert I'd probably just throw a packet of paddlepops at the kids, but for the grown-ups it has to be this hazelnut and chocolate crostata.
This recipe was given to me by chef and food writer Barbara Small (you can find it in her book Stirring the Senses) who collected it from one of her cooking trips through Italy many years ago and, like much Italian food, it is simple and very good.
It's also beautiful to look at and the combination of the chocolate, hazelnuts and coffee is perfect for the end of a Sunday lunch. And it tastes better the next day, which if you are planning on doing a whole lot of chatting in the sun with that prosecco, is what you want to hear.
The recipe calls for crushed amaretti biscuits but I have used crushed milk Arrowroots in a particularly dire pantry moment and it still tasted superb. I have also successfully substituted the amaretti liqueur with Cointreau.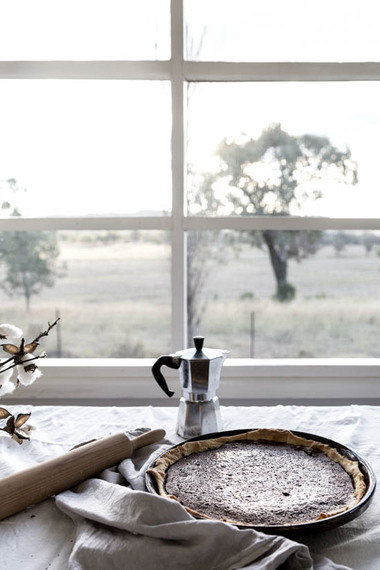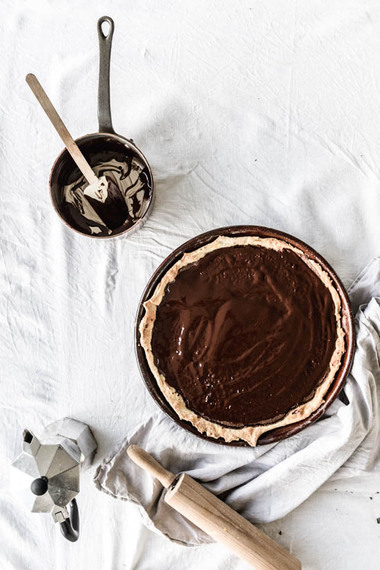 Pic: Annabelle Hickson, www.the-dailys.com
MARIA LOUISA'S HAZELNUT & CHOCOLATE CROSTATA
PASTRY
100g 00 plain flour
40g caster sugar
50g unsalted butter, cut into small pieces
grated rind 1 orange or lemon
1 egg yolk
FILLING
100g hazelnuts, toasted and finely chopped
120g amaretti biscuits, crushed fine in a food processor
140g caster sugar
40g French, Dutch or German cocoa
120g unsalted butter, softened
3 tablespoons Italian espresso coffee powder, very finely ground
4 x 60g eggs
120g amaretto liqueur or brandy
4 tablespoon of thick pure cream
25cm flan tin with loose base, buttered
PREHEAT OVEN 190C NORMAL
PASTRY: In an electric mixer mix process the flour with the sugar, butter and orange or lemon rind until well blended. Add the egg yolk and process only until the mixture starts to come together. Knead lightly and form into a disc. Wrap in plastic and rest in the refrigerator for 20 minutes. Roll out dough on a floured board or between plastic wrap to fit the base and sides of the tin. Put in the refrigerator to rest for 15 minutes. (If any dough remains it may be cut into fine strips and used as a lattice over the crostata). If the recipe is doubled this will be no problem.
Butter the pastry tin and line with foil, shiny side down and weight with dried peas etc. Bake in a preheated 190C oven for 10 minutes. Remove the weights and foil and bake for a further 2 minutes. Cool the crust on a cake rack. Remove carefully from the tin and stand on a baking sheet.
FILLING: In a food processor mix the hazelnuts, crushed amaretti biscuits, sugar and cocoa. Add the butter and coffee and the eggs one at a time, followed by the alcohol and finally the cream.
REDUCE OVEN TO 165C. Spoon filling into the prepared pastry crust and bake for about 20 minutes or until a wooden skewer comes out clean, although it should still be moist. Cool on a cake.
A thin coating of good quality chocolate melted with a nut of butter may be spread over the top, or just serve with a light dusting of icing sugar.
Tips from Barbara : To roast the hazelnuts put them in a 170C oven for 12-15 minutes. Your nose will tell you. Turn them out onto strong paper towel and while hot rub with another piece of paper towel and most of the skins should flake off. Use espresso grind coffee -- not too bitter. And when grinding nuts always use a little of the sugar which helps absorb the nut oils.
Read more from Annabelle Hickson at www.the-dailys.com