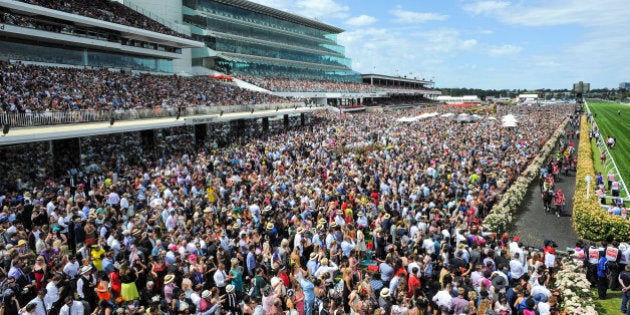 Whichever horse crosses the finish line first at Flemington today, the real winner will be the Australian tourism sector.
"Nowhere in the world have I encountered a festival of people that has such a magnificent appeal to the whole nation. The Cup astonishes me."
Those were the words of American writer Mark Twain on attending the 1895 Melbourne Cup.
One hundred and twenty years later, the Melbourne Cup is bigger than ever, with more than 100,000 racegoers expected at Flemington for the race which stops a nation.
But the benefits of the four-day Carnival are much longer lasting than the sore feet (and heads) which are as much an institution as fascinators and form guides.
Over its 155 year history, the Cup has become a tourism icon, propelling Australia's reputation overseas as a premier destination for food, fashion, wine and culture.
The 2014 Melbourne Cup Carnival Economic Impact Study found that nearly 8000 international visitors from over 43 countries descended trackside last year. A repeat result at this year's Melbourne Cup Carnival will help deliver another $200 million boost to the Australian economy over four days.
With nearly half of today's starters from overseas, including Britain, Ireland, Japan, and France, chances are good that arrival figures will be even higher this year.
More than 70,000 interstate visitors are also expected, joining more than a quarter of a million Victorians enjoying the best of Australian hospitality.
This is great news for jobs, with the Carnival employing 18,000 staff and contractors at Flemington in the lead-up to and during the event.
Of course, it's not just Victoria that will see the benefit. By lunchtime today, pubs, restaurants and venues across Australia will be at full capacity.
Surveys show that Emirates receives good value for its major sponsorship of the Cup, with spin off benefits for Qantas as a result of their partnership. That's a great example of the multiplier effect of tourism.
More than just about any other industry, tourism drives growth activity across the economy. Research shows that for every dollar spent on tourism, another 92 cents is generated in other parts of the economy.
Many visitors will also extend their trip to see more of Australia, spreading the benefits of the Cup through regional Australia. There are also very tangible benefits for our retail, accommodation, transport and hospitality sectors.
Last year's economic study found the fashion industry enjoyed a huge boost, with 75,000 hats and fascinators, 61,000 dresses and 17,000 shirts sold. Racegoers spent more than $20 million on food and wine alone.
At a time when governments are scrambling for revenue, tourism and major events are the low-hanging fruit of the new economy.
But don't take my word for it.
Deloitte's Positioning for Prosperity? Catching the Next Wave report has identified tourism as one of five super-growth industries for jobs and prosperity in Australia over the next 20 years.
Aviation access is at record high levels. By 2030, there will be more than 3 billion people in the middle classes in Asia with discretionary income for international travel.
The opportunities for Australia to host more major events and attract additional visitors is enormous. That's why there is a role for the Commonwealth Government in ensuring that there is a coordinated approach to the sector.
I welcome the appointment of Senator Richard Colbeck to the position of Minister for Tourism in the Turnbull Government. After two years without a Tourism Minister, industry is excited about the change of direction, which I hope will see better engagement with the sector and more progress toward our Tourism 2020 goals.
This year's Melbourne Cup prize money is a cool $6.2 million, along with the namesake 18 carat gold cup worth $175,000. But that is pocket change compared to the economic potential of our tourism industry, which could see spending reach $145 billion annually by the end of the next decade if we get the settings right.
Come 3 pm I'll have my money on Irish horse Bondi Beach to win, but Australian tourism and major events will be the real stayer of our economy.
Anthony Albanese is the Shadow Minister for Tourism.