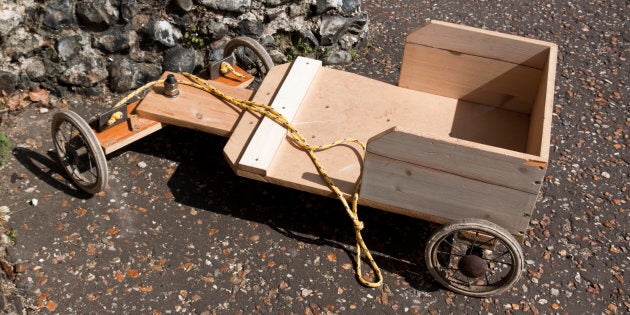 When Australians vote they expect that, whoever wins, their community will receive a fair share of government expenditure regardless of how it voted. That's why in speeches claiming election victories, most Australian political leaders pledge to govern fairly for all, not just for their supporters.
However, when it comes to infrastructure funding in the campaign for the July 2 election, Malcolm Turnbull broke the fairness rule, succumbing to crude pork barrelling.
Mr Turnbull promised to spend $858 million on 78 road projects around the country. An incredible 76 of those projects were in Coalition-held electorates. There was also a severe interstate bias with, for example, 46 road projects in NSW seats and none in Victoria.
These are not Labor figures. They come from the Coalition's formal election costing documents and the skewed nature of the allocations has been highlighted in analysis by media outlets including The Guardian and The Australian.
Mr Turnbull's approach is unfair. However people vote, all Australian communities contribute taxes and deserve something back in return.
But unfairness is only half the story. The Government's approach is also bad for the Australian economy and its potential to create jobs for the future. It ignores one of the most significant economic problems facing our nation -- traffic congestion.
Earlier this year, the independent Infrastructure Australia warned that without action now, traffic congestion would cost the nation $53 billion a year in lost economic productivity by 2031.
Action on traffic congestion is therefore an economic necessity even before you consider the critical issue of quality of life of commuters. Labor's election campaign response was to propose to invest in public transport as well as roads to create fully integrated transport systems across our cities.
Mr Turnbull offered no new funding for public transport. And because his 78 road projects are small and largely based within his favoured Coalition electorates, they will do little to enhance traffic networks.
For example, the Coalition will spend $1 million upgrading a road in the Hunter Valley community of Gresford which is used for an annual billy cart race. Projects of this size are normally funded by state or local governments. The Commonwealth should focus on the big picture.
In transport, the big picture is capacity building -- delivering the big projects that produce productivity gains and facilitate economic growth. It's about seeing the transport system in terms of how railways, freeways and smaller roads fit together to create a more efficient whole.
During the election, Labor's funding pledges included support for transformative projects like the Melbourne Metro, Brisbane's Cross River Rail Link, a Sydney Western Rail Link to Badgerys Creek, the Perth Metronet, Adelaide's AdeLINK light rail network and light rail in Hobart.
We also pledged money for roads -- eliminating bottlenecks on major roads like the M1-Gateway Motorway merge south of Brisbane, upgrading arterial road networks like Melbourne's M80 ring road and building the Wanneroo Rd and Roe Highway overpasses in Perth.
These projects would make a real difference to traffic congestion -- much more of a difference than Mr Turnbull's billy cart track.
One of the roles of Infrastructure Australia, which the former Labor Government created in 2008, is to advise the government on the costs and benefits of proposed infrastructure projects. IA's advice is impartial. It was created to take the politics out of nation building. But since taking office in 2013, the Coalition Government has sidelined IA, ignoring public transport and funding projects not examined by IA.
The best example of the folly of this approach is the Government's support for Melbourne's ill-fated East-West Link. At the time the project was funded in 2014, it had not been reviewed by IA. Later, evidence emerged showing the East-West Link would have produced a miserable 45 cents in public benefit for every dollar invested.
Given the decline in the investment stage of the mining boom, Australia must support policies that boost economic growth. Making our national transport networks more productive must be one of them. That's why infrastructure provision should be seen as a central element of economic policy. It should be above day to day politics.
The Coalition's political approach works against the nation's economic interests.
Anthony Albanese is the Shadow Minister for Infrastructure, Transport, Cities and Regional Development