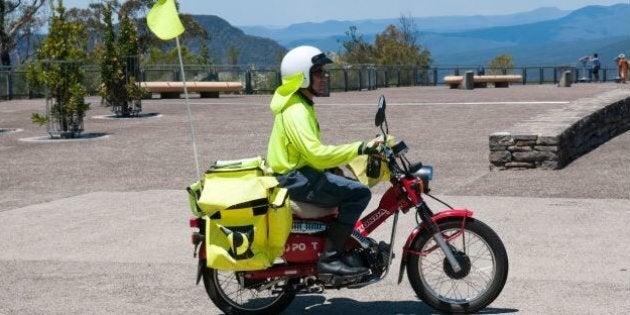 Genuine leadership requires vision, but in Australia in 2017 an absence of vision is selling our future short when it comes to provision of railways, roads, broadband and other infrastructure.
Infrastructure investment is in decline, down by $1.6 billion in this financial year alone and about to fall off a cliff over the coming four years from $7.6 billion this year to $4.2 billion by 2020-21.
Our cities are congested. Our regional communities cry out for investment and better communications technology. Yet, in the analysis of private sector peak industry group Infrastructure Partnerships Australia, nation building investment under the Turnbull Government is at a 10-year low.
What was envisioned as 21st century broadband will end up as last century Fraudband that will be obsolete even before it is completed.
The Government's failure to exercise vision is illustrated by its attitude to two major nation building projects -- High Speed Rail and the National Broadband Network.
A High Speed Rail link from Brisbane to Melbourne via Sydney and Canberra has been talked about for years as a way to allow people to travel between capital cities in as little as three hours.
It would turbo-charge economic development of communities along its route like the Gold Coast, Casino, Grafton, Coffs Harbour, Port Macquarie, Taree, Newcastle, the Central Coast, Southern Highlands, Wagga Wagga, Albury-Wodonga and Shepparton.
A study initiated by the former Labor Government found High Speed Rail was viable and would produce more than $2 in economic benefit for every dollar invested.
Acting on the recommendations of an independent panel, we proposed establishing a High Speed Rail Authority to work with relevant state and territory governments on planning for the project and preserving the corridor before it is built out by urban sprawl. However, after taking office in 2013, the coalition rejected this sensible way forward.
Since then, nothing has happened. No land has been acquired and informal talks between the Federal Government and the relevant states have gone nowhere.
Even if construction of High Speed Rail is some time off, we need to get cracking on planning. Otherwise it will never happen. We have to shape the future, rather than kidding ourselves it will just somehow sort itself out.
The coalition's lack of vision is even more marked with regard to its delivery of the National Broadband Network.
The former Labor Government commenced this project on the basis that it would connect to homes, businesses, schools and hospitals to the network by optical fibre -- the technology of the 21st century. But the current Government is connecting the network to street corner boxes, not premises, and recently purchased 15 million metres of copper wire to complete the job.
So what was envisioned as 21st century broadband will end up as last century Fraudband that will be obsolete even before it is completed.
Fibre-based broadband is an essential piece of economic infrastructure. That's why it is being rolled out in nation across the world and is taken for granted in nations like South Korea, Hong Kong, Japan, Singapore, and Taiwan.
In Australia, it offers extraordinary opportunities for businesses in rural and regional Australia to engage with the global economy, finally taming the tyranny of distance as an obstacle to growth.
Earlier this year it was revealed that when Brisbane computer game designer Morgan Jaffit wanted to send one of his products to a design specialist in Melbourne, he found it was faster to send it by snail mail than online.
Our nation must do better in a world of ever-accelerating change.
Information technology pioneer Bill Gates has more than a few runs on the board when it comes to looking over the horizon and imagining future possibilities. In his 1995 book 'The Road Ahead', Gates wrote:
We always overestimate the change that will occur in the next two years and underestimate the change that will occur in the next ten. Don't let yourself be lulled into inaction.
That's an important point. The Federal Government needs to get the message.
ALSO ON HUFFPOST AUSTRALIA