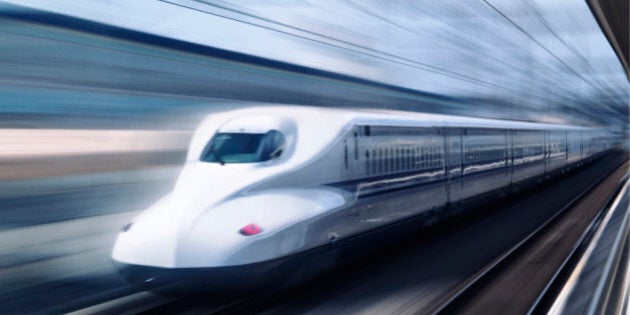 The development of great railway networks is a critical part of the economic development of any nation. Just as railways opened the great American west and the Australian interior to economic activity, it has in turn driven the development of today's emerging powers like China and India.
However, it would be a grave error to assume that rail is an artifact of history.
In fact, 21st century Australia needs more railways -- freight rail, passenger rail and high-speed rail -- if we are to effectively handle the challenges and opportunities of the 21st century.
Australia's key economic challenge today is the need to diversify economic activity to make up for the decline in mining caused by the shift in the resources cycle from construction to production.
Improved freight rail must be a central part of the solution. Australian food production is primed for growth given rising demand of the rapidly growing Chinese and Indian middle classes. We need to increase exports of meat, wheat, vegetables and other commodities and also seek to value add to our raw commodities with a greater focus on food processing.
That's a perfect argument for investment in more freight rail projects, such as the proposed Inland Freight project, linking Brisbane and Melbourne via an inland route that will pass through some of the nation's most productive agricultural regions.
The former Labor Government invested $600 million improving parts of the existing railway network that would form part of Inland Rail and also allocated $300 million to continue the work on new sections.
It is unfortunate that progress has stalled under the current government. But it is important that this project has bipartisan support. Completion of Inland Rail will not only improve access for raw commodities to our ports, but also get fresh food to food processors more efficiently, reducing costs and boosting productivity. Productivity gains are also available from the construction of a high-speed rail link between Brisbane and Melbourne via Sydney and Canberra.
High-speed rail would revolutionise interstate travel, allowing movement between capitals in as little as three hours aboard trains travelling as fast as 350km per hour.
The benefits to travellers are obvious. But imagine the economic spinoffs for development of regional communities on routes like the Gold Coast, Casino, Grafton, Coffs Harbour, Port Macquarie, Taree, Newcastle, the Central Coast, Southern Highlands, Wagga Wagga, Albury-Wodonga and Shepparton. Capital city workers could live in regional cities and commute and city-based businesses could easily move their operations to the regions, knowing the major city was only a short train ride away.
A feasibility study completed by the former Labor Government in 2013 found that for every dollar invested in high-speed rail between Sydney and Melbourne, there would be $2.15 worth of economic benefits. Accordingly, we allocated $54 million to create an authority to progress the planning for high-speed rail and to begin to acquire the corridor before it is built out by urban sprawl.
Regrettably, the current government has failed to follow up this plan. That's a missed opportunity. The Government has also refused to invest in urban passenger rail, a proven means of reducing the traffic congestion that is holding back economic and jobs growth in our big cities.
Congestion is worsening in this country, partly because in recent years jobs growth has shifted from the outer suburbs of cities in industries like manufacturing, to the inner suburbs in industries like insurance, information technology and other services. This means many Australians live in outer suburbs of cities and spend long periods commuting on congested roads.
It's a tragedy that this trend means many working parents spend more time in their cars than they spend with their children. Millions of Australians are trapped in this situation -- watching their quality of life drifting away from them like the white lines in their rear-vision mirrors.
It is time to act to address this problem by investing in urban rail, particularly in outer suburban areas.
Better urban rail services are part of the solution, along with action on housing affordability and density as well as jobs growth in the middle and outer suburbs of our cities. Better urban rail is the pathway to genuine improvements in productivity. But it can also address the serious deterioration of community and family life in our big cities that is being caused by urban sprawl and the shifts in employment patterns.
John F. Kennedy once offered excellent advice for politicians who were too timid to get on the front foot on nation building: "Things do not just happen,'' Kennedy said. "They are made to happen.''
When it comes to issues like better urban rail, the Inland Rail and high-speed rail, we should heed Kennedy's advice and get on with it.