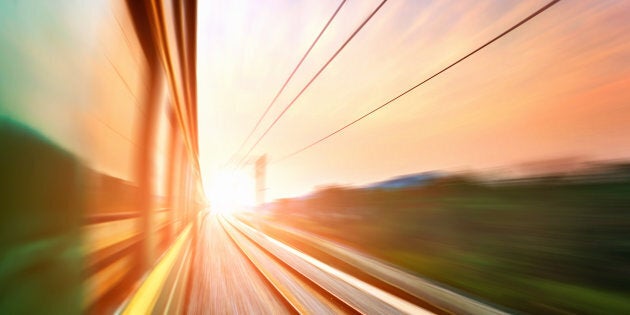 There's an old saying that if you fail to plan, you are planning to fail.
That's an important warning for governments responsible for considering the long-term planning needs of our nation, particularly new railways lines.
Indeed, this concept of thinking ahead could not be more pertinent when it comes to the construction of a High Speed Rail line between Brisbane and Melbourne via Sydney and Canberra. High Speed Rail would revolutionise interstate travel, allowing people to travel between capital cities in under three hours.
It would also turbo charge the economic development of the regional centres along its route, including the Gold Coast, Casino, Grafton, Coffs Harbour, Port Macquarie, Taree, Newcastle, the Central Coast, the Southern Highlands, Wagga Wagga, Albury-Wodonga and Shepparton.
It's a big project, but one that has been shown to be viable, returning, for example, $2.50 of economic benefit for every dollar invested on the Sydney to Melbourne section.
However, each and every day, inaction by the Federal Government is threatening the future viability of this transformative, nation-building project.
By failing to plan, we are not only planning to fail, but also letting down our own children and grandchildren, who will have to pick up the tab later because of our inaction.
Earlier this month, the Government's independent infrastructure adviser, Infrastructure Australia (IA), warned that the proposed High Speed Rail route is in danger of being consumed by urban sprawl. IA warned that if we don't start to protect the corridor now, its acquisition will be more expensive and far more difficult down the track.
In the worst case scenario, unrestricted development on the line today could mean that when the project is built, more tunnelling will be required at a cost of $100 million per kilometre in today's dollar terms.
"If we protect infrastructure corridors we will reduce project costs and especially minimise the need for underground tunnelling, where the cost to government and therefore taxpayers can be up to ten times higher than it would have been''.
The report said that if governments acted to protect the corridors for the seven major rail projects on its current Infrastructure Priority List, including the Outer Sydney Orbital, the Hunter Valley Freight Line and the Outer Melbourne Ring, they would save taxpayers as much as $11 billion.
The report called for a corridor acquisition framework for major projects. This common sense report is timely. In 2017, the Federal Government has dropped the ball when it comes to vision. Unable to look any further than the next election, today's leaders are ignoring planning issues critical to our nation's economic prosperity now and in the future.
By failing to plan, we are not only planning to fail, but also letting down our own children and grandchildren, who will have to pick up the tab later because of our inaction.
So it is with High Speed Rail.
As Infrastructure Minister in the former Labor Government, I commissioned the feasibility study that determined High Speed Rail was viable in this country. In response to that study, I appointed an independent expert committee including former Deputy Prime Minister Tim Fischer, Business Council of Australia chief executive Jennifer Westacott and the late Bryan Nye, of the Australasian Railways Association to recommend an implementation plan.
Their recommendation was identical to that of the recent Infrastructure Australia report -- secure the corridor now.
The committee recommended the creation of a High Speed Rail Authority that would work on corridor acquisition and co-ordinate planning between the Queensland, New South Wales, Australian Capital Territory and Victorian governments as well as local government.
This was a common sense and non-political approach to identify a long-term goal in the national interest, and begin an orderly process of planning to make it a reality.
In the 2013 election campaign, Labor proposed to create a High Speed Rail Authority, with an initial budget of $52 million to begin acquiring the land.
Then Tony Abbott became Prime Minister. The most adversarial politician of our generation, Mr Abbott dumped Labor's plans, withdrew the funding and walked away from the project, leaving the various state jurisdictions involved without federal leadership.
Four years later nothing has happened. No land has been acquired. There is no venue for co-operation between the various jurisdictions along the route. My Private Members Bill to create a High Speed Rail Authority has been blocked from a vote in the House of Representatives.
Meanwhile, property owners and developers have been going about their legitimate business of developing the land on the fringes of Brisbane, Sydney, Canberra and Melbourne -- daily increasing the cost to future taxpayers when a future government decides to deliver High Speed Rail.
This short-termism is a failure of leadership, an affront to common sense and a needless drain on the future public purse.
The Federal Government needs to address the national interest and start protecting land that will be needed in coming years to meet the nation's infrastructure needs.
ALSO ON HUFFPOST AUSTRALIA