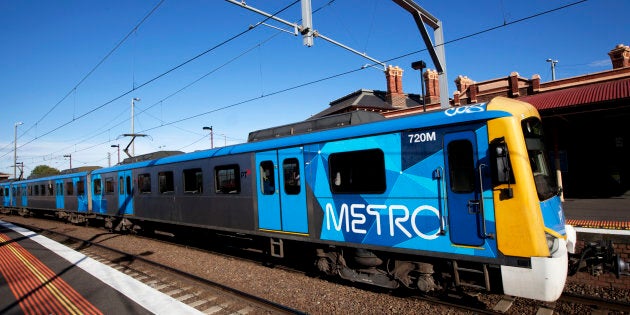 When governments are seeking to lift economic growth, one means at their disposal is to invest in infrastructure. If they choose the right projects, they can have an immediate impact on job creation and economic activity. In the longer term, the right railways, roads and port projects boost productivity, reducing costs for business and setting the scene for future waves of economic growth.
That's why there is increasing public pressure on the Turnbull Government to increase its investment in Nation Building -- pressure that has increased since last week's National Accounts showed that the economy contracted in the September quarter and warned that: "Public capital expenditure detracted 0.5 percentage points from growth as it declined from elevated levels in the June quarter''.
Experts such as Reserve Bank chairman Philip Lowe and his predecessor Glenn Stevens, as well as state premiers, business people and senior economists, have all suggested the Government lift its infrastructure investment to boost economic activity. Yet last week at the Council of Australian Governments meeting, Malcolm Turnbull swept away such appeals.
This follows an election campaign where the Turnbull Government failed to commit to any major new infrastructure projects but preferred local road projects which would normally be delivered by state governments or even local government.
Mr Turnbull should think again.
To lift infrastructure investment, Mr Turnbull could start to make a real difference if he simply delivered his own Budget.
That is $3 billion promised which, had it been actually delivered, would be driving economic activity right now, right around the nation.
In its 2014 Budget, the Coalition committed to an infrastructure program that it said would include $8 billion in investment in 2015-16. But the Treasury's Final Budget Outcome document for 2015-16 shows the Turnbull Government invested only $5.5 billion in that period. That's an underspend of $2.5 billion.
Indeed, the underspend was more like $3 billion, because the Government included in its figures a $490 million payment to the Western Australian Government as GST compensation. So that is $3 billion promised which, had it been actually delivered, would be driving economic activity right now, right around the nation.
It would be supporting jobs in construction and engineering. It would be providing business for suppliers of concrete, steel and other products. It would be facilitating the training of apprentices. And remember, this is not new money. It is money that has already been budgeted.
This underspending is not a function of the rephasing of projects from one financial year to another due to incidental delays. The 2015-16 underspend followed a $1 billion underspend the previous year.
What is happening here is that, for a range of reasons, the Government has been unable to actually invest the money it has already put aside. Those reasons include the Government's 2013 decision to scrap billions of dollars of investment in public transport projects that were ready to go and divert the money to toll road projects that were not ready to go. Had the government proceeded with those projects they would be underway now, supporting jobs and growth.
Governments don't create jobs and growth simply by talking about infrastructure. They have to actually invest.
Instead, most of the Coalition's favoured toll road projects have failed to get off the drawing board and it has fallen far short of its budget on investment in ongoing major projects such as the Bruce and Pacific Highway upgrades. Reduced activity equals reduced economic growth.
Major projects such as the Melbourne Metro, Brisbane's Cross River Rail project, Melbourne's M80 project, Adelaide's light rail and Perth's public transport network are ready for more investment.
The work of Infrastructure Australia has meant that there are projects which have been recommended and positively assessed that are ready to go. But there is also some low-hanging fruit that it is incomprehensible has not been funded by the Government.
For example, a $13 million investment on the Glendale Interchange in the Hunter region, which I visited last week, would be the catalyst for 10,000 jobs and more than $1 billion of private sector investment. It has been identified as the Hunter region's most important project driving investment in the residential, commercial and retail sectors.
And yet the Government has failed to grasp this opportunity.
Mr Turnbull should immediately task his various ministers responsible for infrastructure investment with initiating talks with the states over how it can deliver its budgeted investment in the national interest. And it anyone worries that the money might go to the wrong projects, they shouldn't.
The former Labor Government created Infrastructure Australia to examine and assess the value for money of major infrastructure proposals. The Coalition has supported the Infrastructure Australia model.
Governments don't create jobs and growth simply by talking about infrastructure. They have to actually invest.
ALSO ON HUFFPOST AUSTRALIA