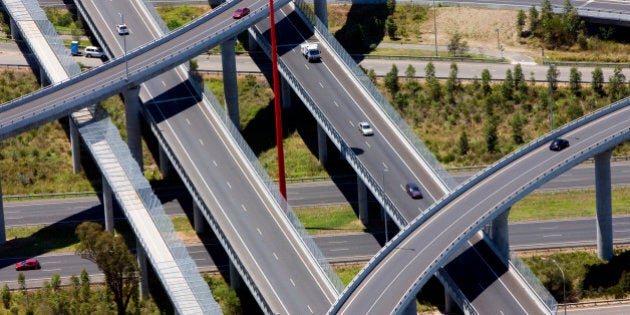 Talking is easy, but concrete action is always a challenge.
We've heard much lately from the Turnbull Government about its determination to involve itself in policies to improve the productivity, sustainability and liveability of Australian cities.
This move to bipartisanship on urban policy is a welcome change from the Government's former rejection of a Commonwealth role in cities, despite the fact that they are home to four out of five Australians. But one of the problems is defining exactly what the Commonwealth can do in this complex policy space. Labor has a 10-point plan that provides the perfect starting point. I released it at the National Press Club in September 2014.
Its key principle is that the Commonwealth should work with state governments and councils to invest directly in integrated urban transport systems that include both roads and public transport. The idea that Canberra can only fund roads and that only states can fund rail projects belongs in a museum.
Worsening traffic congestion is a threat to the national economy and that is everybody's business. Indeed, late last year, Infrastructure Australia produced a report warning that without action now, traffic congestion will cost the nation $53 billion a year by 2031.
We need the right mixture of roads and rail, investing scarce taxpayers' money on whichever mode of transport best meets the community's needs. The best way to get that mix right is to follow the independent advice of Infrastructure Australia, created by the former Labor Federal Government in 2008, to take the politics out of infrastructure by promoting evidence-based decision-making.
Another weapon in the fight against traffic congestion is investment in active transport solutions such as walking and cycling as a means to make it easier for people to choose to leave their cars at home. More walking and cycling tracks, as well as more bicycle racks and storage areas around bus and train stops would be a good start.
Housing affordability is another critical urban-policy issue. One of the greatest problems facing urban planners in 2016 is the fact jobs growth is shifting from the suburbs in industries such as manufacturing into inner-city areas in service industries such as finance, insurance and information technology. While those new jobs are welcome, the problem is that in most capital cities, average income earners cannot afford to buy homes near CBDs. They live in the drive-in, drive-out suburbs, where housing is affordable but jobs are scarce.
This worsening problem requires a range of responses, including measures to make housing more affordable such as reform of negative gearing and promotion of greater housing densities along established public transport corridors. However, not everyone wants to live in an inner-city unit.
Governments must also promote more jobs growth in suburban areas, closer to where people live. One way is to support the ongoing development of second and third CBDs such as Parramatta and Chatswood in Sydney, Box Hill in Melbourne, Chermside in Brisbane and Woden and Belconnen in Canberra.
We can also take pressure off our capital cities by supporting growth in regional capital cities such as Townsville, Newcastle, Wollongong, Ballarat and Bendigo. We need to ensure that development of such centres is not held back by inadequate infrastructure.
We should also invest in research at hospitals and universities to create diverse research precincts and optimise the job-creating potential of major projects such as Sydney's Badgerys Creek Airport. If Badgerys Creek is connected to the city's existing rail network, we will encourage the establishment of more aviation-related businesses in its vicinity.
Development of a National Broadband Network that connects fibre cable to homes and businesses, rather than to a box on a street corner, will also help. State-of-the-art broadband will make it easier for some businesses to establish themselves in suburban areas -- away from high rents in metropolitan CBDs and closer to where workers can afford to live. A top class NBN will also allow more people to work from home.
Labor's 10-Point Plan for Better Cities also includes rejuvenation of urban waterways, more sustainable building design and use of renewable energy and greater attention to liveability through more and better parks and an increase in tree cover.
Putting this all together, there is no doubt that governments have it within their power to make real improvements to urban Australia -- changes that will not only boost their economic productivity but also enhance the quality of life of millions of Australians.
All it requires is the political will to work together.
Anthony Albanese is the Shadow Minister for Cities.