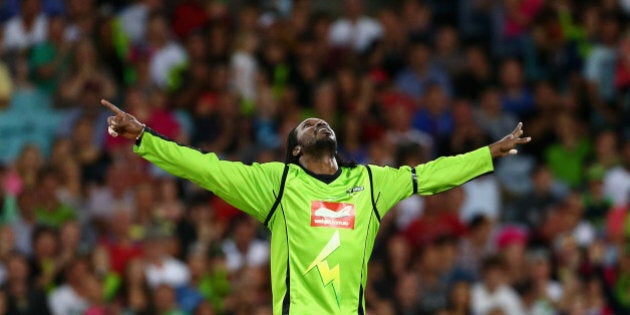 It's date night tonight. Woohoo. School ended yesterday, the kids are having a sleepover and my lovely wife and I are having date night. Hooray for date night.
Date night is great. We get to eat food that doesn't require side dishes of finish-that-or-you'll-get-no-dessert and put-that-bloody-iPad-down. My wife and I actually talk on date night. About actual stuff. It's almost like we're human. Hooray for date night.
The only problem with tonight's date night is that it coincides with the start of the cricket season.
Now, if you follow sport, you might think the cricket season started with the Test matches against New Zealand and that loose assortment of occasional cricketers known as the West Indies.
But for many Australians, the real stuff starts tonight. Tonight the Big Bash starts. Blokes in pink versus blokes in green. Yeah!
Which teams are they again? Don't know. Do we care who wins? No. Are half the players 57 years old and just playing for the money? Yes. Do we care? No. Is it fun? Yes. Is it meaningful? No. Is it memorable? No. Does this matter? Hell no. Can you respect yourself in the morning after watching it? Hell yes. Am I still looking forward to date night? Um, officially, yes.
The thing about the Big Bash is that it's fun. Just good old-fashioned fun. This is not a crime. Some people make like cricket is part of this grand narrative of nationhood and identity. Very occasionally it traverses that territory. But can't cricket just be fun, too?
Test cricket is red wine, the Big Bash is red cordial. Test cricket tests leadership, the Big Bash has cheerleaders. Test cricket is about character, the Big Bash is about characters. Both forms of the game have their place. But only one seems ideally suited to midsummer.
The Big Bash has transferred the spirit of beach cricket to the screen. You bowl, you hit, you have a laugh, you fall over and spill your beer. And that's just watching at home on the couch.
Matches are the right length and the Channel Ten commentators are pitch perfect. Unlike some, they're knowledgeable without rubbing all that knowledge in our face. They're having a laugh along with the rest of us.
Interestingly, the Tests and One Day Internationals still outrated the Big Bash on TV last year. Crowds are a different story. Across the country, Big Bash attendances are huge. Partly that's due to kids being on school holidays and grown-ups being off work, but you suspect there's something else going on here.
Do you think maybe that all those cricket purists who love Test cricket and openly sneer at Twenty20 are attending Big Bash matches? I do. As for me, I'll definitely be at the first Big Bash match this season, that doesn't fall on date night.
Tonight, alas, I'll give the Big Bash the flick. But that's OK because tonight is date night. Date night is important. Woohoo for date night. Double woohoo for any restaurant which happens to have a sneaky TV screen or two.
"What was that you said, Sweetheart?"