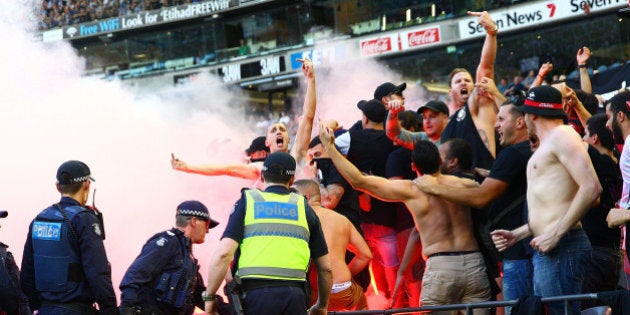 This video scares me like hell. It makes me want to avoid A-League games. It makes me wonder what administrators in this country are doing to tackle bad soccer fans.
The video, in a word, is menacing.
The Red and Black Bloc do plenty for charity. They bring passion and colour. In their early days at least, they brought inclusiveness and a sense of belonging. Here's what I wrote after spending a night watching the football on the fringe of the main RBB mob back in 2013. Excuse me for quoting myself.
"This thing is unlike any other thing in Australian sport. This thing is a party, a carnival, a festival, a concert. This thing is a mass outpouring of passion -- not just of sporting passion -- but of togetherness, of belonging. The RBB is a place where brickies and brokers, where young and old, where women with blonde hair and women in burqas, come together to feel a part of something."
Is it all of that now? Is it any of that?
I contacted the RBB before writing this piece but received no response. It would have been nice to hear their thoughts on the video. If you don't have two-and-a-half minutes to watch it, here's a precis of its contents.
At 17 seconds, we see the first footage of flares being let off. More flares at 21 seconds. More at 32 seconds. Flares again at 52 seconds. Flares, we should point out, are classed as explosives, burn at temperatures of hundreds of degrees, and are banned.
At 59 seconds, a crowd which has taken over a city street throws a coffin in the air and watches it smash to the ground. Just to make you feel really good about taking your family to the game.
More flares at 1:04. Burning garbage bins, choking smoke and flares again at 1:16. Flares at 1:23. Flares at a game at 1:30 while a hapless security guard looks on, powerless to do anything.
That's only half the video but you get the idea. And this all goes on with a musical backing that sounds an awful lot like death metal.
At the end of the video, a bunch of men in hoodies walk under a bridge as the words "Without You, There Is No Us" appear on screen.
Without You, There Is No Us. But who exactly is "us"? Is "us" a mob of violent thugs who would endorse letting off flares and throwing coffins in a city street? Because that's what the video seems to be saying.
This week, respected football commentator Simon Hill opened his Fox Sports editorial with a really feisty first few paragraphs: "Well done, idiots," he wrote. "After months of careful negotiation to find a way through the impasse between FFA and active supporter groups, a small number of Western Sydney Wanderers 'supporters' effectively gave David Gallop a slap in the face on Saturday night."
"These troublemakers can't be allowed to dominate the way this game is viewed," Mr Gallop said. "We're looking for good football fans to be vigilant in relation to this [bad] behaviour. There needs to be a threat to say this can't happen again."
Like I said, tough words. But if David Gallop is serious about encouraging "good football fans", he could start by ordering the removal of the video. How is it still the message used to advertise the RBB's ethos and, presumably, to recruit new members? If I was a thug and I saw that video I'd say "hey, here's a place for me. How do I join up?"
Soccer fans have a solid argument when they point out that 90 drunken yobs were ejected from the cricket at the MCG this summer, and 81 from the Sydney Sevens rugby last week. When that happens, no one shrieks "this sport has a problem" the way they do when soccer fans misbehave.
This is, and has long been, a fair point.
But drunken footy and cricket fans don't have a supporters group which makes videos of fans behaving scarily as some sort of badge proclaiming who they are and what they believe in.
David Gallop needs to deal with these people. So do the good soccer fans. These people must be weeded out. And the video should be taken down.