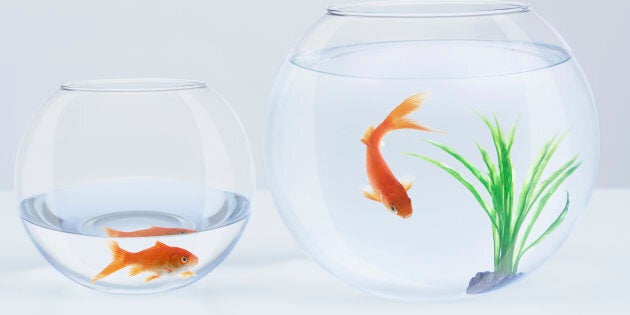 This Federal Election campaign -- like pretty much all others we have seen in Australia in recent years -- has, in the main, been characterised by the major political parties' attempts to convince the Australian public to trust them with the country's economic management and to distrust the other side.
But where, in all of this talk of the economy, is the issue of poverty, both in Australia and abroad? What are the implications of the major parties' policies for poverty and inequality, two issues that bring a much-needed ethical inflection to the too often grubby business of electioneering?
Australia has signed up to an ambitious program -- Agenda 2030: The Sustainable Development Goals. The aim of this global agreement is to "end poverty, protect the planet, and ensure prosperity for all" within the next 15 years. How do we plan to achieve this? The policy platforms of the three major political parties provides some insight into the extent to which a pro-poor agenda dominates policy debates in the run up to the upcoming federal elections.
Consistent with its neoliberal ideology, the Coalition insists that overall economic growth, particularly in the private sector, will ensure economic prosperity to all Australians, including those who are currently most disadvantaged. In its emphasis on the guaranteed public provision of basic services such as education and health, the ALP insists that its policies will ensure that distributional issues will not be left to the hazard of questionable economic theories.
Neither is particularly vocal about international aid or the impact of Australia's foreign and trade policies on global poverty. In fact, save bipartisan agreement that we should persist in our deplorable treatment of those who flee intolerable lives elsewhere and who seek out asylum on Australian shores, there is a resounding silence about the state of the rest of our world.
As certain groups of Australians know only too well though, poverty and inequality are not only 'off shore' issues. The Committee for Economic Development in Australia estimated that four to six percent of our society, or approximately 1.5 million people, experience chronic or persistent disadvantage. A high number, but statistics can leave hearts cold, and at the heart of poverty is what it does. Poverty, as defined by the United Nations is: "a denial of choices and opportunities... it means lack of basic capacity to participate effectively in society... it means insecurity, powerlessness and exclusion of individuals, households and communities. It means susceptibility to violence, and it often implies living on marginal or fragile environments."
Labour force participation and conditions have some influence on poverty trends, and here the good news would seem to be a fall in unemployment. The problem is that increased labour force participation has largely been driven by increases in part-time employment and a reduction in full-time employment combined with low wage growth.
At the same time, income measures only tell us part of the story of poverty. Using the most up-to-date data, in June 2015, the Social Exclusion Monitor developed by the Melbourne Institute of Applied Economic and Social Research (MIAESR) and Brotherhood of St Laurence found that at least a quarter of Australians above the age of 15 experience some level of exclusion, where exclusion is measured in seven key domains of life: material resources, employment, education and skills, health and disability, social connection, community and personal safety.
Approximately 825,000 Australians experienced deep exclusion and more than 150,000 people are very deeply excluded. Within this overall figure, older Australians (above the age of 65) experience the highest rates of social exclusion, women are more likely to experience social exclusion than men, immigrants from non–English speaking countries are more likely to experience social exclusion than people born in Australia, and long-term health issues, limited education and disability all exacerbate social exclusion.
As Election Day fast approaches, a group of Australian academics, under the umbrella of the global organisation Academics Stand Against Poverty, have conducted an audit of the implications of the policies of the three major political parties for poverty in Australia and beyond. Looking beyond the "jobs and growth" rhetoric, these snapshot assessments indicate significant disparities in policies in a range of areas -- including polices regarding Indigenous Australians, immigration, refugees, superannuation, foreign aid, women, welfare and international trade.
Where possible, the political parties have been assigned an overall scorecard that provides a summative evaluation on the level of confidence that the party's poverty alleviation approaches will reduce poverty and contribute to flourishing now and in the future. The scores are on a scale of zero to four (where zero equals very low confidence and four equals very high confidence).
Overall, our experts score the three major political parties as follows: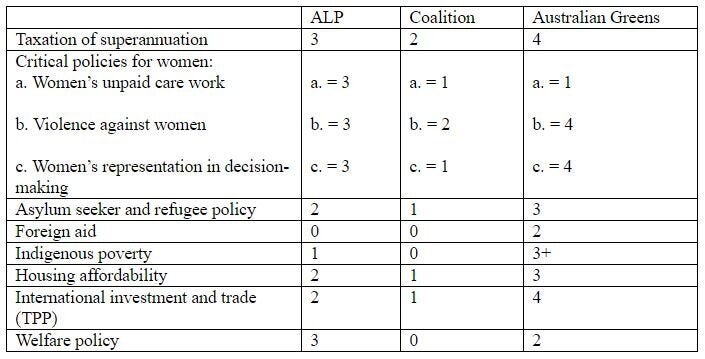 In all areas assessed, Coalition policies were consistently judged to be the worst at alleviating poverty, although, in many, the ALP fares only a little better. The Greens, who may hold the balance of power, are in virtually all cases offering policy proposals that would make a significant contribution to poverty alleviation.
For Australians concerned with how the decisions of our next Government will alter the lives of those who, in Australia and beyond, are deprived of the opportunities to live and flourish that most of us take for granted, the vote you cast in July could have a significant impact.