Hazel Evans is a writer, artist, masturbation advocate and raging feminist from the UK, currently based in Denmark. Her work is not limited to any one subject or medium, but usually fits into one of two categories: "that would be fun to do" or "this is an important issue that we need to discuss." Sometimes the two overlap.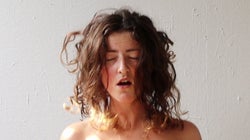 Courtesy of Hazel Evans
Being a self-sufficient, modern woman doesn't mean that you've necessarily learned ― or been taught ― about self-pleasure.