Jillian Johnson
Guest Writer
Jillian Johnson is an Air Force spouse, mom, mental health and LGBTQ advocate, proud Slytherin, and all-around creative soul. She's a California girl adjusting to Southern life with her husband, three kids, and three fur children. She's also a freelance writer who is currently pursuing a degree in Psychology with a focus in child and adolescent development, and is an active volunteer within her local military community. Her work has been published on the MilSpo Co blog and in Military Spouse Magazine. In her spare time, Jillian enjoys reading, gaming, and the occasional spontaneous road trip with her family.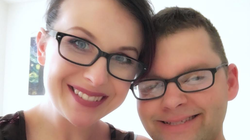 Divulgação/Jillian Johnson
"Most people are surprised when they learn about my sexuality because they assume that having a husband means I'm straight."