Julia Ries
On Assignment For HuffPost
Julia Ries is an LA-based freelance writer who covers health and wellness for Healthline, HuffPost, PBS, Girlboss and the Philly Inquirer amongst others. You can see her work at juliaries.com.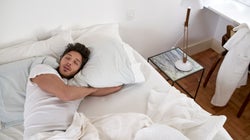 Bambu Productions via Getty Images
Talking in your sleep is generally harmless, but there are a few cases where it can be cause for concern.