Khushaal Vyas
Creator and NSW Premier's Multicultural Youth Medal recipient.
Khushaal Vyas was the winner of the Premier's Multicultural Youth Medal and Australian Student Leader of the Year in 2017. Khushaal is an active advocate on issues of cultural diversity as well as on Indigenous affairs having co-founded a volunteering and mentoring program with community centres and schools in the Dubbo-Trangie area during his time as President of the UNSW Law Society. Khushaal hopes that a post COVID-19 world will see him improve on his embarrassingly poor batting average next cricket season.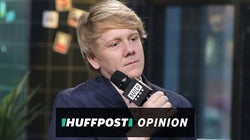 Getty
The comedian's comments in a resurfaced video from 2016 symbolise a far wider diversity problem in Australia, writes Khushaal Vyas.