Kimberly Rex is a freelance writer who lives in New York with her husband and two daughters. Her work has appeared in SELF, Teen Vogue, and Your Teen, among others. You can often find her breaking her new phone, rewatching "Friends," and overanalyzing all things. Follow her on Facebook at https://www.facebook.com/kimrexwrites/.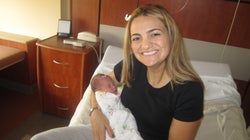 Courtesy of Kimberly Rex
When the local sheriff knocked on the family's door... he found only empty rooms inside.