Laura Crotty
On Assignment For HuffPost
The author of The Little Vegan Dessert Cookbook (Lincoln Square Books, July 2020), Laura Crotty is a freelance writer and Addy Award recipient for her work in food journalism. She is a certified culinary professional in health-supportive cuisine with an interest in vintage cookbooks. You can see more of her work @lauracrotty.com. Follow her on Instagram @broiledgrapefruit and on Twitter @crotty_laura.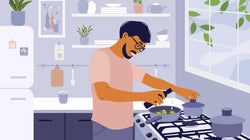 Olga Strelnikova via Getty Images
Sure, we've endured meat and flour shortages, but the coronavirus could improve many aspects of our food systems.