Lawrence Carter
Senior Investigations Reporter, Unearthed
Lawrence Carter is a senior reporter and special projects editor at Unearthed, where he covers climate change, Big Oil and dark money. His investigations have featured widely, including in HuffPost, The New York Times, the BBC, The Financial Times, Le Monde and many others.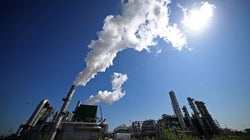 Dean Mouhtaropoulos via Getty Images
An Unearthed and HuffPost investigation identified at least eight trade associations the companies failed to disclose in transparency reports.