Marissa Evans is an Austin, Texas based journalist who writes about health policy, politics, women in the world, social justice and more. She's the health and human services policy reporter for The Texas Tribune where I write about how the state legislature is tackling the Affordable Care Act, Medicaid/CHIP, abortion legislation and other public health issues. Her reporting has appeared in Cosmo for Latinas, Kaiser Health News, The Seattle Times, and The Washington Post, among others.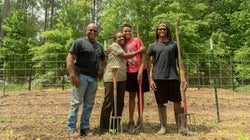 LYNSEY WEATHERSPOON FOR HUFFPOST
Prejudice, violence, and poverty have pushed black farmers off their land. A growing movement is calling for reparations.