Naomi Tomky
On Assignment For HuffPost
Naomi Tomky writes about food and travel. She is an Association of Food Journalists "Best Food and Travel Writing" award-winner and her first cookbook, Pacific Northwest Seafood, will be published in early 2020. Follow her on Twitter @Gastrognome and on Instagram @the_gastrognome.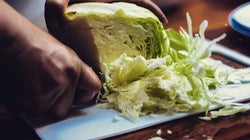 Sornchai Sopha / EyeEm via Getty Images
Thanks to the coronavirus pandemic, cabbage is in more kitchens than ever. And it's not even St. Patrick's Day.