Rachel Abbott
Guest writer
Rachel Abbott is a journalist based in Nairobi, Kenya. She writes about business and technology, global development, and mental health. In her previous life as an international development professional, she worked at social enterprises in Kenya and Guatemala. Rachel is a hammock enthusiast dedicated to the relentless pursuit of adventure. Find her on Twitter at @abbott_rachel4.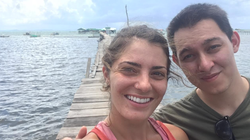 Courtesy of Rachel Abbott
"I worried I was compromising my autonomy by moving to Kenya, but I was right about what I'd gain."