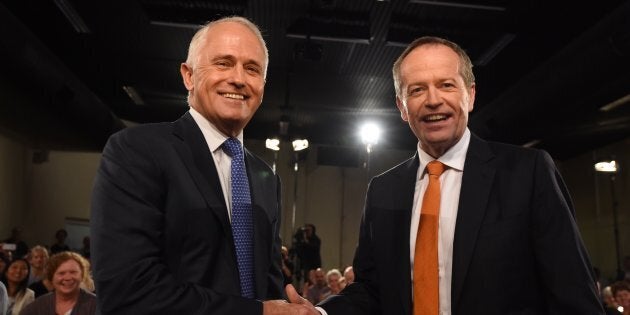 One of the central debates which has emerged following the tight Federal election race on 2 July revolves around whether a Turnbull-led government will possess a 'mandate'.
The national primary vote swing against the Coalition of around 3.4 percent has been used by some in the opposition to claim that the agenda of the Coalition has been rejected. Even before election night was over, Labor leader Bill Shorten declared that the Coalition had "lost their mandate".
Mandate, though, is a slippery and ambiguous rhetorical term and its usefulness and meaning is contested among political scientists. Given its re-emergence after the federal election, it is worth considering what is meant by possessing a mandate.
Mandate and the Lower House
Generally, mandate continues to be described as a 'doctrine' or a 'theory', which implies a coherent set of beliefs about political legitimacy and the authority to govern.
Mandate theory, however, refers to arguments pertaining to how far the right to govern extends in liberal-democratic states, and the capacities of electoral systems to provide political representation to all citizens.
In Australia's Westminster-derived electoral system, the party (or parties) that enjoys the confidence of a majority of members of the 150-seat lower house is invited to form government.
In this context, a general or 'executive' mandate to govern is bequeathed to the government to implement its agenda. By virtue of being elected with a majority of seats -- that is, 76 or more -- governments are entitled to perform day-to-day government activity.
The big question now is to what extent the Labor opposition, headed by Bill Shorten, will cooperate with the Turnbull government's legislative agenda. Already he has backtracked on earlier triumphant comments by declaring he would respect the Coalition's mandate.
More contentious than the notion of a general mandate to govern is the idea that governments have specific or 'issue-based' mandates to implement policies outlined prior to an election.
The use of mandate rhetoric by oppositions can have detrimental impacts on a government.
The Gillard government's inability to neutralise attacks on its legitimacy after the 2010 election, for instance, was partly due to the alterations it made to its platform following negotiations with minor parties and the independents. In particular, the 'carbon tax lie' was an extremely effective rhetorical weapon employed by the Coalition.
In addition to general and specific mandates, it is also possible to add a third component: the oppositional or 'counter-mandate' claimed by minor and micro-parties who seek to implement their own election promises. How the newly-elected government negotiates and manages these competing agendas -- in both houses -- will be a great test of Prime Minister Turnbull's leadership.
Mandate in the Upper House
Despite being ambiguous and multi-layered, the electoral mandate serves as a useful political weapon. In Australia's bicameral context, debates about mandates have related to the role of an upper house in blocking or enabling legislation, and what the 'right to govern' really means in a bicameral system.
In bicameral parliaments where two separate elections are held simultaneously and there are two different election systems -- preferential in the lower house and proportional in the Senate -- a voter might make different choices of party in each of the two houses, and a greater diversity of voices are more likely to be represented.
The role of the Senate effectively challenges the notion of an executive mandate, which reflects its key liberal function: to provide a check on the powers of the executive. For this new parliament, the circumstances of Senate representation will be crucial in the Turnbull government implementing a policy agenda.
Cabinet Secretary Arthur Sinodinos claimed the government has a 'mandate' to implement its budget. However, Turnbull's grand masterstroke of Senate reform combined with the double-dissolution failed. Despite suggestions to the contrary, Turnbull's aim was to replace the 'hostile' Senate that refused to pass key legislation, particularly from the 2014 budget.
The final composition of the Senate is not yet clear, and may not be for quite some time. However, the Senate is unlikely to be easier to deal with, particularly as minor parties and independents, including the Nick Xenophon Team and One Nation, subscribe to vastly different economic ideologies.
Without a Senate majority, bargaining, negotiation and compromise become essential, as opposition parties claim the right to pursue their own campaign policies in order to represent those who elected them. Consequently, governments have to adjust plans to pass legislation, which necessarily undermines the concept of an executive mandate.
Mandate: Does it even exist?
The diverse use of 'mandate' indicates competing ideas in Australian politics about the responsibilities of parties to pursue commitments made during campaigns and the extent of rights to govern.
Although mandate is used in multiple and often conflicting ways, this does not render the concept meaningless. Mandate ought not be considered as either a 'theory' or 'doctrine', but rather as a rhetorical weapon designed to persuade.