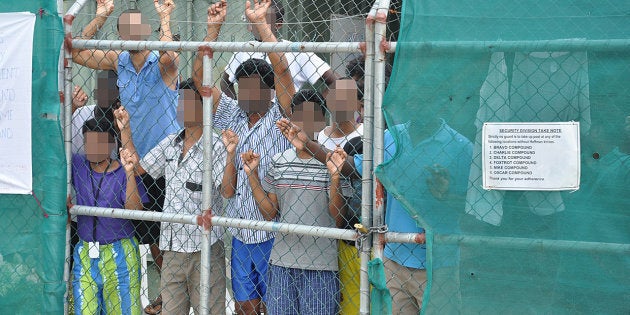 To be stripped of one's rights is a tragedy.
It means being deprived of a decent life and the freedom to pursue happiness. It means inequality under the law and living without freedom of conscience.
However, tragedy reaches a climax when losing one's rights is combined with exile from society. Our greatest adversity is not that as imprisoned asylum seekers we are unequal before the law; the greatest adversity is that there is no formulation of laws that applies to us.
This is the reality of Manus Prison, a thousand kilometres away from the modern world. During the past 39 months, all the asylum seekers imprisoned on Nauru and here on Manus Island have been denied access to any court of justice, and basically the only rule of law that exists involves continuous torture and degradation.
For instance, the Australian justice system delivered a one-sided ruling against us -- an outcome in benefit of their own political ends -- and announced our exile and indefinite detention. Also, after nearly 18 months, the New Guinea courts still cannot arrive at a clear solution; they have been unable to implement the law with any force.
Clearly, imprisoned asylum seekers on Manus Island and Nauru have been exiled, displaced, crushed and left hopeless. Our bodies have been directly exploited by a cruel and violent political strategy; a new form of fascism born at the beginning of the 21st century.
During this extended period in detention, government policy has targeted our bodies and minds. We resist so that we do not lose our sense of self and individuality -- maintaining our identities has been our primary motivation and goal over the past three years. Writing, working and continuing the struggle has been the only way to sustain my sense of self and character. In my view, resistance must never be passive in the face of fascism, but it must always be a rational form of resistance.
The systems of control governing the Manus and Nauru Prisons have been designed in such a way that, in time, one slowly loses all of one's cultural characteristics and is transformed into a mere body without personality and human dignity.
Prisoners are forced to stand for long periods under the sun for the sake of receiving either food and wear loose-fitting clothing made using ugly colours. Prisoners are called by numbers that target individuals in such a way that the imprisoned asylum seekers on Manus now call each other by those same numbers. Prison guards insult the prisoners regularly and treat them with contempt. In this situation, prisoners have forgotten that not so long ago they belonged to families; that they were once loved; that they once listened to music; they once wore appropriate clothes; and that in some point in the not too distant past, they felt like worthy human beings.
My personal experience locked up in Manus Prison has taught me that the only prisoners that are able to stand in defiance -- and display their strength of will to some extent -- have been those who have exercised intelligent forms of resistance. They are the ones who have developed a new method of deconstruction created to combat the authoritarian structure of the prison and its oppressive regulations.
Unfortunately, the personal identities of asylum seekers are invisible to the oppressive system of the island prisons. However, blindness to the agency of asylum seekers is not limited to the detention centres; this form of blindness has migrated from the prisons to Australian civil society.
This particular disregard of our agency has also penetrated the community of human rights advocates and activists; a consequence of the logic of government propaganda. Similar to the government's creation of its own concepts and propaganda, Border Protection and Border Force consistently represent asylum seekers as dangerous criminals invading Australian society. During television broadcasts, the Australian Immigration Minister deliberately uses terminology such as 'illiterate' and 'innumerate' to demonise asylum seekers. These factors have helped shape a particular representation of asylum seekers; a representation constructed by the government for the public.
In this context, two different perceptions have emerged. First, that asylum seekers are dangerous aliens, enemies, brutish, liars, potential terrorists and people who do not share the same social values as Australians. They argue that it is normal to eliminate people described with these attributes.
The second perspective is one that appears to be humane and pertains to the community of activists and human rights advocates. According to this view, asylum seekers are portrayed, at best, as victims, the downtrodden, or the 'Other' (in the philosophical sense). In other words, the subject of sympathy and people simply in need of care.
Both cases represent oppressive power relationships. In reality, both ignore the agency of asylum seekers -- they fail to recognise the full humanity of asylum seekers in comparison with other humans.
I believe both are false and unacceptable because they are both the political consequences of a government ideology that tries to strip asylum seekers of personhood. Asylum seekers deserve to be treated with dignity and respect, and engaged with as unique individuals. Asylum seekers must not be exiled from society and stripped of dignity; they must not be deprived of exercising agency and treated differently to others.
Translation: Dr Omid Tofighian, University of Sydney