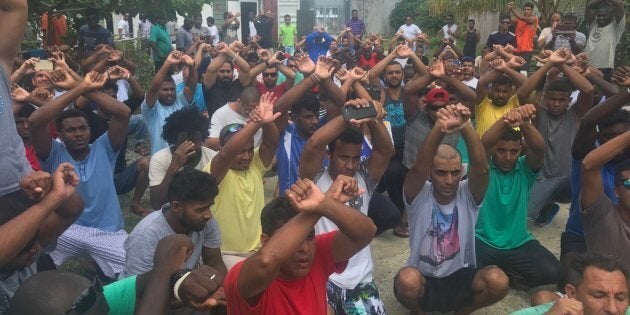 But one can sense the presence of hundreds of men.
Hundreds of men with their clothes stripped off.
Hundreds of men inside the corridors, in the forlorn corners of the prison.
Hundreds of starving men.
Bodies deteriorated, bodies famished, bodies annihilated.
I lean my back against the single coconut tree in the centre of Fox camp, I inhale the smoke from the local tobacco into my lungs, inhale into my empty guts.
A loud bellow rises up out of one of the corridors. It is a cry for help. I hurry over there immediately. Someone comes over to me: "Farhad is dying! He collapsed on the ground!"
The sound he is making emits the scent of death.
I put the light of my mobile up to his face. He resembles death, he looks like a dead man. It isn't long before dozens of individuals gather around.
The sound of the shouting.
The sounds fill the whole corridor.
I know Farhad. He has been struggling with a heart condition in Manus Prison for a very long time. I quickly put a pillow under his head and check his pulse. It is really fast. His whole body is sweating. All I know is that this signals heart attack.
I immediately get out of that space. I go over to the front prison gate. A few others come with me. No one is there. Not the police. Not the navy. None of them are there.
I contact a former Manusian MP asking for him to send a car quickly. I must admit that I am in a state of panic. Under the current conditions the prison cannot tolerate another death. He sends through a number for us to contact. No matter how many times I call no one picks up. I go back inside Fox. Farhad is still there lying motionless on the ground. The crowd is terrified. They ask: "Any news? What happened?"
I return to the front gate again.
A large number of advocates in Australia and a few other individuals on the island try their best to contact immigration or International Health And Medical Services (IHMS). I follow up with them through WhatsApp. I finally get word from Australia that IHMS has been notified but they say: "We cannot offer any medical services while Farhad is still in the camp. He must first leave the prison and go to East Lorengau until we are able to attend to him. And the ABF must also approve".
There is no other hope if we are to get help from IHMS. Our efforts continue until eventually they reply by telling us that a police car is coming from Lorengau. It's absurd, it's ridiculous. Imagine transporting a sick person in a police car. The distance from Lorengau town to the prison by car is 35 minutes. I return to the prison to notify them that the police vehicle is on its way.
Twice I go back to the gate.
After 30 minutes the lights of a vehicle emerge from the darkness.
We become hopeful. But suddenly the lights disappear. The car turns away.
More follow ups, again and again. They announce that the police car just left Lorengau now. Once again, we wait in anticipation.
The sound of the jungle echoes. From a distance it feels as though the prison is terrified.
A tropical jungle reverberating with harrowing sounds.
And a road winding through the jungle.
This was the entirety of the whole scene.
No sign of any car after 30 minutes.
We receive news that they are in touch with the Chief of the Navy and the problem will be sorted out soon.
A car arrives. A few of us stand in front of it to block its way. It is a Mobile Squad vehicle (Mobile Squad are security officers who over the last few weeks have been employed in East Lorengau to transfer the refugees). We requested their help. They respond: "There is no ambulance here. There is one option and that is to wait till morning when we can get Farhad to agree to leave the prison. Only then can he receive treatment from the doctor".
We continue to appeal, we tell them that this man is dying. They don't pay any attention. They speed off into the distance, away from the road. All out efforts have arrived at a dead end.
I return to the prison. Farhad is like someone who has crossed over into death. The group have given up, they have lost hope.
I return to the front gate again.
I arrive but I am totally distressed and disconcerted from going back and forth between the gate and the prison... just imagine the refugees all gathered around Farhad.
I must admit that for a moment I felt everything had fallen apart and that there was nothing more I could do... that I had failed. I lean back on a coconut tree. I gather my legs up into my arms. I roll some local tobacco into a piece of paper. I just look out onto the dark road, just look out into the darkness.
Hundreds of forgotten men.
Hundreds of starving men.
Hundreds of men losing consciousness.
A jungle haunted by the sounds of crickets, the sound of tropical frogs, the sound of the moon.
This is the entirety of the whole scene.
It was twelve-thirty at night. Out of the depths of darkness a light is shining. It's immigration, it's their vehicle. Minutes later they take Farhad with them. Will Farhad survive?
I return to the prison with this question ringing in my head...
_________________________
Translation by Omid Tofighian