My new year's resolution was about getting out of my comfort zone. Yes, I'm a cliche. I've accepted it. I also like green smoothies and yoga and hipster beads. It's all good.
My resolution was less of a desire to head off on a solo trip through South East Asia and more to do with turning off 'House of Cards' and getting my arse off the couch so I could make some memories worth sharing with my eventual offspring. "In my twenties, I once watched Netflix for three days in a row" is hardly memoir material.
So when an email landed in my inbox asking if anyone wanted to abseil off a skyscraper, I said "Me!" and my name was on HuffPost Australia's exciting-things-to-get-you-out-of-the-office blackboard before I could Google "Exactly how high is 33 stories?"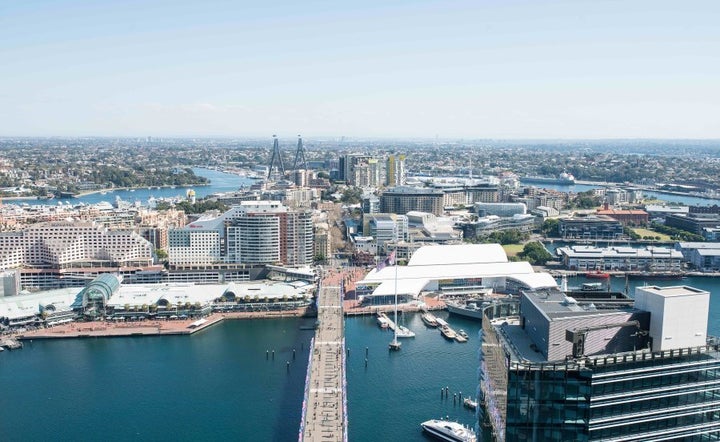 The added bonus was that the abseil was raising money to help rehabilitate young people with addictions. I've seen first hand the impact addiction can have on people and their families and friends, so it's a cause very close to my heart.
Since I'm not scared of heights, I wasn't really nervous. In fact, I was kind of confused when people started telling me I was brave. I am not brave for abseiling off a building. My colleague Emily, who agreed to film the abseil despite a serious fear of heights, is brave. Blogger Lauren Rowe, who was given two weeks to live as a result of a genetic disease called Cystic Fibrosis, is brave. People who seek help for addiction and homelessness and mental illness are brave.
It's much harder to do something you're really afraid of, or admit you have a problem and seek treatment, than it is to dangle off the side of a building on a rope that could hold 17 cars.
Take Trent, for example, who ended up in rehab after a bad breakup and subsequent substance addiction left him homeless.
In 2015, Trent checked in to Triple Care Farm, a residential rehab facility in Sydney's Southern Highlands. He told me the scariest part of his experience was making that first phone call, admitting he needed help.
"I remember being pretty scared," he said. "I had physically detoxed but still felt ill-prepared for months of rehab. I was unsure -- I didn't know what would happen or what to expect."
Clinical psychologist Nichole Sullivan, told me of the unexpected courage required to admit oneself to rehab.
"It's very scary for the young people at first, to leave their home, friends, family, comfort zone and then try to withdraw from drugs," she said.
It's interesting how the act of making a phone call could require more courage than abseiling off a 135-metre building, but context is everything.
Having said that, when I found myself strapped into a harness, pretty much in the SKY, I started thinking that 'Netflix and chill' (the literal chill, not the sex thing) sounded like a perfectly acceptable way to spend my twenties.
It was scary. Really scary. My body didn't want to move. Deep breaths. I knew I couldn't slide out of the harness and splatter on the footpath, but it didn't stop my brain from going there.
And then I did it. And then I babbled some stupid stuff at a camera. And then it was over. Feet on the ground, groin severely bruised, adrenaline levels through the roof. The whole thing took about eight minutes.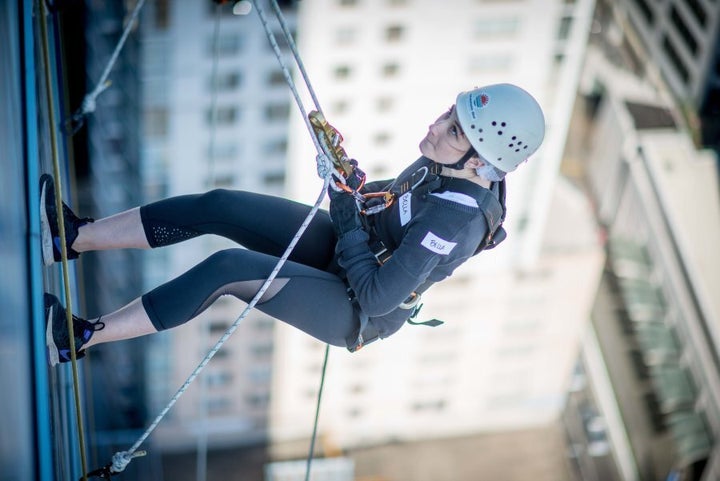 Trent, on the other hand, had to spend four months in rehab, and then a year of rebuilding his life. That is brave.
Now Trent is clean, off Centrelink, and has just moved into a share house with a couple of mates. He works six days a week in a guitar shop, plays in a couple of bands and is studying a Bachelor Degree in music.
And that's the thing about courage. It's nearly always worth it.
Although, I must admit, my bottom bruises are still recovering.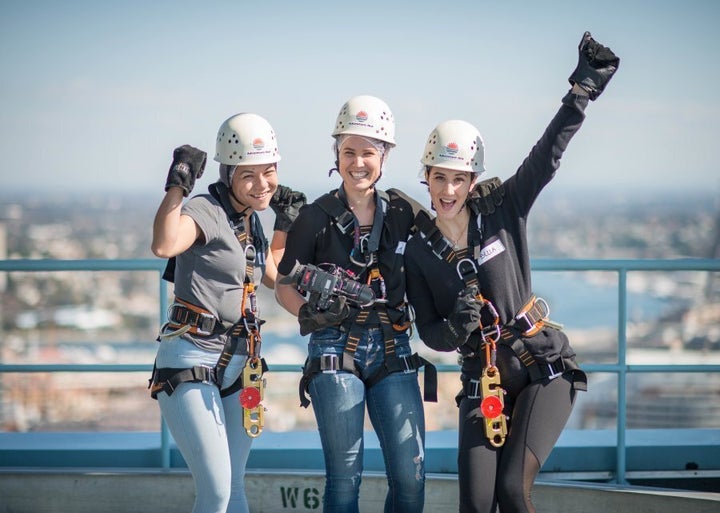 Abseil for Youth will take place on 20-22 of October to raise money for The Sir David Martin Foundation, which funds Triple Care Farm.