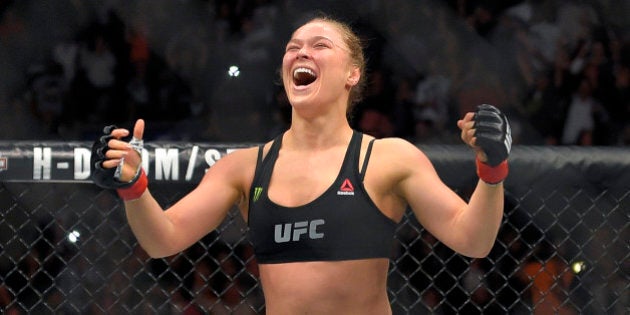 On November 15 Melbourne will host UFC 193, which is expected to be the largest event the Ultimate Fighting Championships has ever mounted.
Up to 70,000 will be at Etihad Stadium that afternoon, with many there to cheer on Ronda Rousey as she defends her women's bantamweight title.
If you only know one UFC fighter, it's probably Ronda. She has the movement of a contemporary dancer, the smile of a movie star, the opinions of Riot Grrrl, and the toughness of an old Doc Martin boot.
She's the embodiment of the rapid evolution of the sport, both inside the Octagon and out.
Before the event though, there will be a chorus of voices decrying the sport, complaining about the UFC's aesthetic, and worrying for the safety of the athletes.
The aesthetic argument I understand -- to the uninitiated, the fights can look like a bloody mess -- though that concern is remedied easily by inviting detractors to do something else on November 15.
But to argue for the safety of the athletes and people like Ronda, is to deny them their agency, and do a disservice to what's most admirable about them. Fighters like Rousey long ago looked at a spot on the fuzzy edge of the human experience, and decided to dedicate a great part of their lives to getting there.
They know there will be pain along the way, and injury, and even the potential of brain damage (as there is in any contact sport) but they've still decided the risks are worth it for the chance of a glorious moment in the Octagon.
Some just want one UFC victory, some strive for a belt, and some, as is the case with Rousey, want to be considered the greatest fighter of all time. The goals are not universal, because the fight is never with the opponent but with the competitor's own potential.
After the announcement of UFC 193, 3AW's Neil Mitchell said he thought the event was a bad look for Melbourne and that the UFC is "legalised thuggery," but I think his choice of words is poor.
A thug would try to find someone who they can beat up, but a UFC fighter is always looking for the person who is best suited to beat them up. After winning a fight no competitor ever asks for his or her next fight to be against an easier opponent.
Years ago when writing a feature about UFC 110, Australia's first ever event, I interviewed comedian, podcaster, martial artist and UFC commentator Joe Rogan, who noted that the average UFC career is a slow, painful, and not particularly lucrative trudge towards a superior competitor who will humiliate them in front of thousands of people.
When I asked why they do it he said it's simply because the fighters are extreme men (we spoke when it was just men competing in the UFC) who need extreme challenges, saying that mountain climbers, race-car drivers and astronauts were the fighter's emotional contemporaries.
I remembered his comments when Chris Hadfield appeared on Q&A recently, who said that at the time of his first space launch, he knew there was a one in 32 chance of catastrophic launch failure, but that he'd judged that the risk was acceptable when considering the reward.
On November 15, there's little chance the Octagon will explode under a fighter, but then again, none of the competitors expect to float through space with the Northern Lights between their legs.
All they want is to have trained their bodies and minds to their absolute capacity, and then perhaps have their hand be raised while a stadium full of people cheer on their athleticism, tenacity, and bravery.