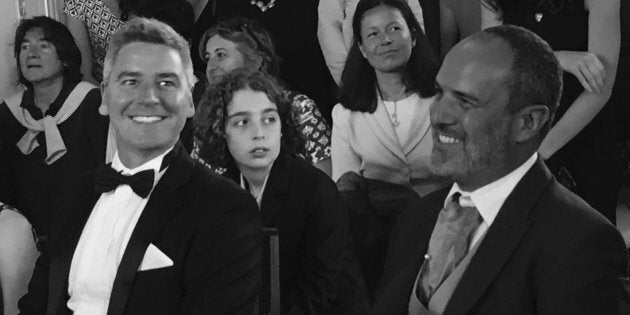 I married my long-term partner David at the mairie (town hall) of Chatou, Paris, on Saturday August 20, 2016. I wore a sharp black tuxedo and he a dark gray morning suit with top hat and tails. Our six-year-old adopted son Joannes was our ring bearer, and held himself very seriously and with great attention throughout the formal proceedings.
As we stepped out of the mairie and saw the waiting gathering of family and friends, the magnitude of the moment whirled up at me. We got married, in an environment that had enshrined marriage as a human right irrespective of any of the fragments of human identity.
My parents were there, along with friends, colleagues and David's family. Everyone dressed to the nines for a chic French summer wedding on the Seine. The town hall had conducted its first gay marriage, and everybody was thrilled.
As I stood on the steps of the mairie, I felt as any newlywed man may feel: celebrated, divinely happy, committed, loving, over-dressed. I also felt grateful. Grateful that in 2013 the Republic of France joined 14 other countries who had legalised same-sex marriage in a simple act of parliament.
This wedding and celebration of love and family would not have taken place in Australia. In Australia we would not have a legally adopted, beautiful little boy standing between us in his blue, three-piece suit, bow tie, Canotier hat and ear-to-ear grin. The life we have, I see it vanish. In Australia we would not be standing together, smiling, buoyant and celestial, on the steps of any town hall in any town. I see it vanish in a mist of idle suburban hysteria, hatred and, worse, ambivalence.
I met David 15 years ago on a business trip in Slovenia, while I was living in Melbourne and he in Paris. We sustained a long-distance relationship for some time until I made the decision to move to Paris in 2004 and start a new life with him there.
For some time we debated whether I would move to Paris or David would move to Australia, and migration law settled the issue. At the time it was already possible for David and I to celebrate a civil union in France, and with that I was granted a residency and work permit instantly. I found work straight away and we bought an apartment, got a cat and some lovely furniture and set about having a wonderful time in the 10th arrondisement.
For David to make the move to Australia required a 12-18 month immigration process, during which he could not work or live in Australia. Even if we had gone through this, our 'couple' would have had no legal status. He would have just been my French boyfriend. We used to say, quoting a cheesy line from the film Titanic: "You jump, I jump". Well I jumped, and he was there, and the Republic of France was there, and all the romance and drama and art and noise and deep exquisite glamour of Paris was there, and it all came together and to fruition on the 20th of August, in the Versailles-inspired interior of the mairie de Chatou.
Australia's government is currently demonstrating a numbing ambivalence on the question of marriage equality and is proposing a plebiscite to determine the public's level of acceptance of proposed changes to the marriage act. This is deeply concerning, not only in that it demonstrates a total lack of political will, conviction and parliamentary authority, but also in that it confuses a significant human-rights issue with a matter of social policy.
Plebiscites are a major and costly undertaking that should be used in cases where a significant challenge to the constitution is proposed, not to poll social sentiment on issues that have a deep and resounding affect on the lives, and potentially wellbeing, of millions of citizens.
The plebiscite, if it happens, will mobilise a 'Yes' and a 'No' movement and they will argue and gyrate and have lunches and breakfasts and debates. It will generate its fair share of media moments and little fleeting starbursts of reason, comedy and scorn. It will, for a time, occupy the nation. It will inflame prejudice, fear, hatred, jealousy and a wellspring of ignorance. It will demean, degrade and devalue people's families. But it will also reveal a sophisticated, intelligent and reasoned voice. It will reveal that Australians can mobilise powerfully to call this what it is: political impotence.
On Saturday, August 20, I danced with my husband under fairy-lit tilleul trees in our garden on the banks of the ancient Seine and we drank Champagne under the stars until we could drink no more. Because we got married. It was a deep joy. It was the happiest day of life. It should not be the unique right of the few. In most decent places to live today, it isn't.