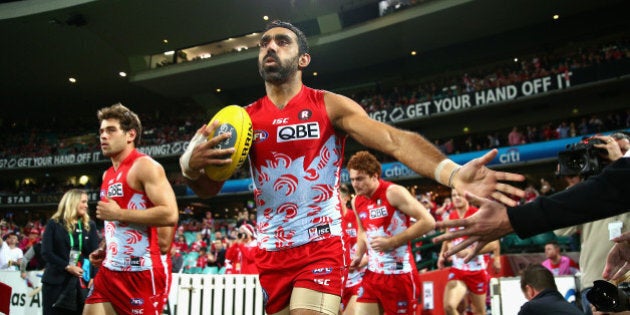 I would argue there's no better way to spend a Friday evening after work or a Sunday afternoon than sitting in the stands eating pies and watching my beloved Sydney Swans drill the ball into the 50 from the centre square at the SCG.
That is, of course, unless you're confronted by the ugly face of racism. Loud and arrogant boos penetrating your eardrum every time an Indigenous player touches the ball, making your heart beat faster at the prospect of having to defend your race once one of your fellow punters crosses the line.
This was the reality for Swans fans for almost two years. Two years from May 2013, until it reached fever pitch in May 2015.
Despite the reasons people had for booing Goodes (and there were so many reasons people gave, most of them invalid and some of them just ridiculous) it stemmed from one incident. A little girl called him an ape and he refused to cop it. He stood up to racism in a polite, respectful and dignified way and has been relentlessly punished for it.
I was there with some colleagues on the night it reached fever pitch. It was the Indigenous Round last year and the booing would just not subside. They were coming from everywhere, drowning out the cheers of the home crowd, audible in the television broadcast, so much so that commentators had to acknowledge it and talk about it instead of talking about the football.
With only six minutes to go until half time, Goodes kicked a goal, the margin on the scoreboard increased to 47 points in the Swans' favour and the beers starting working their magic. What happened next, I believe, has changed the way we talk about racism in this country forever.
He did an Indigenous war dance towards a group of Carlton supporters who'd been heckling him throughout the game. The outrage that ensued because an Indigenous man did an Indigenous dance during the AFL's Indigenous round was baffling.
The hatred and bile that gushed from people's mouths that week was truly breathtaking. I've spoken to people who have never even met Goodes who say they were so affected they could hardly get out of bed because of the things people were saying about Indigenous people that week. It made us sick and it polarized our country. Everyone was talking about it, sharing their views one way, or another.
Then the conversation shifted.
Something happened to all of those people who sat on the fence, comfortably (and perhaps willfully) ignorant about the racism that exists in this country. Something happened when they too were confronted by the ugly and spiteful face of racism. They could no longer deny that it was there. That some (maybe not all) of the boos were because Goodes is an Aboriginal man.
This war dance drew out some of the bad blood that had been spilt here on these lands over the past 200 years, and we've finally started to talk about it.
It forced everyday, reasonable Australians who defended the boos to look around and see the company they were keeping, to take a look at the people they were defending with their silence and complicity.
This one dance inspired us to talk and inspired us to listen. It meant that when Stan Grant could unreservedly express our experiences of racism in this country we were ready for it. We were ready for it because we'd been watching it play out in one of our most sacred of spaces, the footy field.
I've said it before and I'll say it again: I think this is one of the best countries in the world. But that's not to say there aren't things we can and should be doing better.
The reality is that we're farewelling one of the greatest footballers in modern history at the SCG today because he was scared to see the repulsive face of racism in those who would have inevitably booed him at the MCG if he'd done it there before the Grand Final last year.
He shouldered that heavy burden for all of us. He unintentionally started a discussion we didn't know we were ready to have. He's made all of us have a think about what sort of behavior it is as Australians we're willing to accept and what we're not. He's made people who have been sitting on the fence for 200 years choose a side, racism or reconciliation.
He pushed the nation down a path we desperately needed to travel. When he did that war dance at the SCG last year he didn't know just what sort of battle it would start.