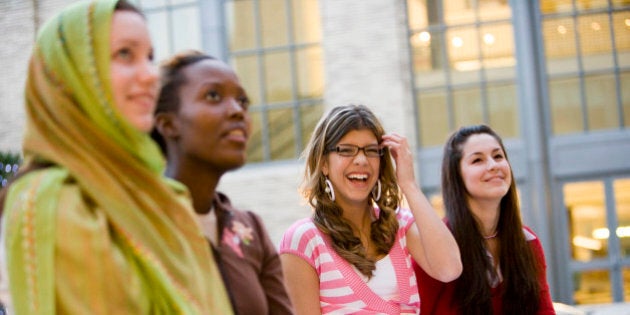 As a child of migrants, I distinctly remember the feelings of isolation and distrust I endured when I was young. I was the only one in the classroom with a strange, smelly lunch and I was the only one not allowed to go to school camp. Nobody seemed to look like me or understand me.
There has been much discussion about the social isolation and disengagement of young people from newly-arrived and refugee backgrounds in the days since the Moomba incident in March. And while this absolutely needs to be addressed through targeted social cohesion initiatives and community-wide action, perhaps a more positive public narrative highlighting those who are flourishing in their new home might help inspire those who are feeling a little lost.
Every day, right across Victoria, young people from refugee and newly-arrived migrant backgrounds are quietly making wonderful contributions to their communities. It is unfortunate then, that our attentions are often afforded to incidents like the gang violence seen in Melbourne's CBD last month which overshadow these great acts.
National Youth Week is one of the rare times that our focus is turned almost solely to the positive contributions that young people are making to our society. The limelight this week is being given to the heroes, the high performers, those committed to bettering themselves and who dedicate themselves to bringing out the best in the people around them. And rightly so.
For every negative story about young people there are numerous positive and uplifting tales of young people making a difference to their community, their family, their peers and even total strangers.
For example, I've seen brave young men denounce gang affiliations, walk away from their lives of crime and delinquency, and go on to shine as talented public speakers and spoken-word artists. Given the opportunity, they are captivating audiences with their intelligence, charm and charisma; and they're inspiring other young men to use their energy in a more positive and constructive way.
Young women I've worked with have blossomed in the business world, using their entrepreneurial skills and business acumen to create highly successful youth-led fashion and social cohesion events. With a supportive arm to steady their first shaky steps, these young people have built something from nothing showing themselves and the world their limitless capabilities.
And these great outcomes are evident throughout regional Victoria too.
In Ballarat, young people created 'Happy Place' -- a regular safe and welcoming meeting space that allows young people from any background to come along, share food, listen to music and just hang out together.
And in Gippsland, talented young people are running AFL skills sessions for other youth in the area. The sessions introduce different aspects of Australian life to young people -- particularly those of refugee or migrant backgrounds -- and help them to meet new people and empower them to join local clubs to elongate the benefits of the physical and social activity.
There are hundreds of other positive stories just like these stemming from cities, towns and suburbs throughout the state.
The young people from refugee and migrant backgrounds in Victoria are generally optimistic, positive and happy. Many have survived trauma, severe hardship and struggle, but all have arrived in Australia with a positive outlook, a thirst for knowledge and a desire to make the absolute best of their new life.
This National Youth Week, let's focus on the heroes in our community. There are inspiring young people doing amazing things all across Victoria and I urge readers to open their eyes to these great stories.
Let's celebrate the diversity that Victoria has to offer and the young people who remind us every day that messages of positivity and achievement are the ones we should be broadcasting and amplifying.
The good deeds and amazing contributions of young people doing their absolute best in their new life are the ones that truly deserve the front pages.