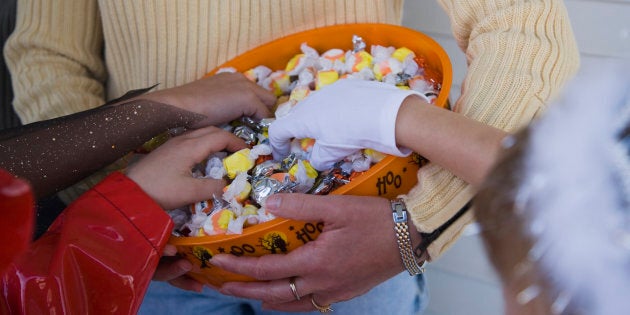 As a Canadian who trick-or-treated well into her twenties, nothing pleases me more than to see the gradual rise of Halloween here in Australia. Decorated houses in the neighbourhood, pumpkins for sale and candy displays in supermarkets all gladden my Halloween-deprived soul. I know some decry this as the Americanisation of Australia, but I for one am happy to see the only holiday I truly love making a place for itself here in Australia.
But, after a record number of trick-or-treaters came to my door this year, I can unequivocally say that Australian children are doing it wrong. They were, with some notable exceptions, grabby, ill-mannered and unaware of Halloween protocol. Their disrespect isn't entirely their fault -- there is no trick-or-treating tradition here, and so they have no Halloween role models. (Beer-swilling fathers with vampire teeth lurking by the gate don't count.)
So, while I know it's too late for this year, here are some guidelines on how to do Halloween, properly.
1. Please wear a costume. Even if it's just a ghost made out of a sheet, you've got to make a bit of effort to get your candy.
2. Just knock once. No need to pound and shout -- I heard you. I've been waiting a decade for you.
3. When the door opens, say 'Trick or treat'. That's the deal. We both know I've got the candy and I'm going to give it to you, but it's polite to ask.
4. Don't swarm the candy giver. Ditto sticking your hands into the candy bowl and grabbing fistfuls of sweets. (That is an unforgivable transgression akin to sticking your hand into the handbag of the woman sitting next to you on the bus and helping yourself to her wallet.) Be calm. You'll get your loot.
5. If you're in a group, be nice to your friends and don't shove them out of the way to get at the candy. Line up and give everyone space to get to the door and then back away to make room for others. And don't get back in line for more, we are totally onto you.
6. You don't get to make requests about what type of sweets you get if you see your buddies getting something different. We dole it out, and you take it. Then you go back home, lay out all the candy and swap what you don't like with your friends.
7. Stop knocking if the light is off, it's past 8pm or there's a sign saying no more candy.
1. It's fun for all to decorate the house to welcome trick-or-treaters.
2. Have a light on. This indicates you've got candy and is another sign of welcome.
3. Ask about and/or compliment the costumes.
4. Better still, wear a costume too.
5. Offering a trick instead of a treat is a legitimate option. But it better be good.
6. Don't be tempted to give out healthy or homemade treats. The infamous razor blade in the apple may just be urban legend, but who wants to chance it?
7. Put a sign out when you're out of candy.
If we all can follow these protocols, I'll be very happy to dole you out some more candy next year.