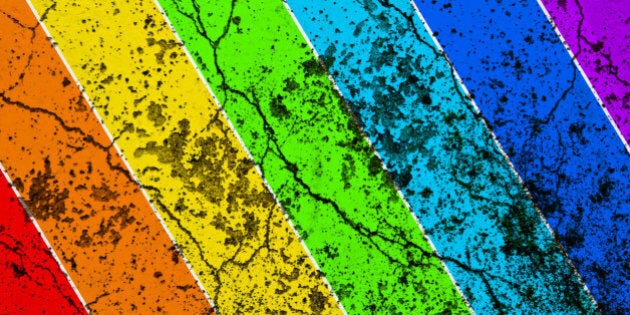 It was a gorgeous day. The sun was shining, the birds were singing. There was a procession of people winding up the path of the cemetery. But the sound of the birds was pierced by the sobs from the distraught mother. The still-in-shock father. The younger sister who just couldn't understand where her older brother went. He's dead, by his own hand. Dead because, when trying to figure out who he was and where he could fit in the world, all he could hear was that who he was wasn't right. Wasn't normal.
The Safe Schools debate has been raging for a while now, and it seems just about everyone has thrown their two cents in. Everyone has an opinion about what is best for students and on whether or not they should be "exposed" to the "radical theory" of the program.
Now, as a bisexual student with many gender diverse and sexually diverse friends, I am listening to this debate and wondering: have any of the politicians who are so adamant about what is best for students actually asked us?
In my experience, I can guarantee that students will say that this program is needed, LGBTI or not. The idea that some people have a different sexual or gender identity is not radical to us young people -- it's just the way it is.
This debate is becoming a political war and the victims are the very children the program is trying to save. When politicians attack the Safe Schools program, they are attacking innocent kids. It may be unintentional (I hope it's unintentional), but that is the reality of the effects these attacks have.
The program does not need to be changed and, what's more, the changes are dangerous to the progress that has been made by the LGBTI community. Taking out materials that raise important discussions about gender is detrimental to the mental health of students questioning their gender. The point of these materials is to help struggling students and educate all students on the reality of gender fluidity.
It is a reality that some people are born with a gender label they don't identify with or feel comfortable with. It's true that some people are gender fluid or don't identify with either gender. And I would challenge anyone who thinks this is just "radical theory" to actually talk to a gender-diverse person and tell them, to their face, that who they are is not valid. I challenge them to actually see the people they're dismissing, instead of hiding in the back benches of parliament.
Carter Smith accused politicians of using LGBTI kids as 'political bullets' on Monday night's Q&A program
What is most upsetting and concerning is how out of touch the government is with the people of Australia. After my comments on Q&A, I have received the most heartwarming and overwhelming support -- not only for myself but for the Safe Schools program. Countless messages and tweets have flown in, as well as support from my peers and teachers.
Medical professionals are vouching for the program the way it is. This program doesn't only save lives -- this program works to normalise a marginalised group and educate people. The only way to overcome confusion and fear is through education -- not conflict.
And that is just it -- the Safe Schools program is about education. It's not pushing the "gay agenda". (In fact, if someone could let me know what that "agenda" is, that would be great because the only people I hear talking about it are those who use the notion as way to spread fear.
I am a passionate advocate for LGBTI rights and for the Safe Schools program, and yes, sometimes when I hear the hate thrown at this program I get mad. But there is no point trying to shout down or steamroll those who oppose those rights, because then we become just as bad as them. Just like Safe Schools, it's about educating those opposed and helping them see that it's about compassion and love. No one is trying to push an agenda except them. They need to learn to love, accept, and move into the 21st century.
I, along with thousands upon thousands of Australians, support this program -- whether because they're LGBTI kids who need this program, parents who want their child to learn about the world, teachers trying to help bring a little bit more love into their schools or even just ordinary, everyday Australians who understand that this a necessary program that, like LGBTI kids, requires support, not changes.
Carter Smith has launched a petition to ask politicians to support the Safe Schools program in its original form. You can sign it here.