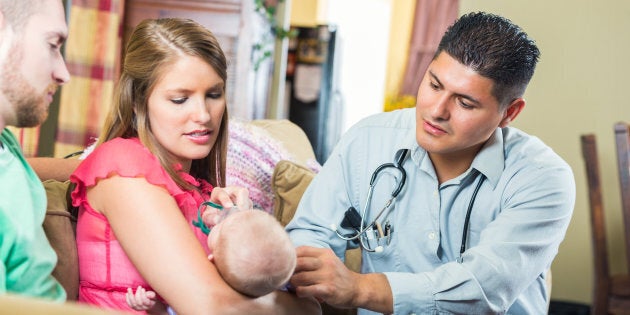 The Government's proposed changes to paid parental leave are in the news again. Arguments on both sides of the fence are cropping up all over the place: Why should women who already get substantial pay out from their employer also get tax payers' money? How can anyone justify cutting such a payment, time at home with a newborn is the most important thing you can give a mother?
The media storm is causing people to miss the main point that this proposed change in policy should be bringing to light -- new parents need support.
Support comes in many forms. It may be financial, as this policy change is centering arguments around. It may be emotional or mental. It may be physical. It may be spiritual. There's no end to the ways in which having a child changes your life. There's also no end to the ways in which new parents require support, and there is no way of knowing from day to day exactly what type of support someone will need.
From personal experiences, I know that this support is also not easy to come by at the drop of a hat.
My first son was born in the UK -- a whole different ball game. With the second on the way, in a city where we had no support network, I decided I needed to do some serious research as to what was available to me.
Luckily I stumbled on a local Group Midwifery Practice, where I met my amazing midwife, and friend. She was with me from my first appointment, right through to checking me out a month after my son was born. Her flexibility with my appointments, ability to entertain my eldest son during my appointments, and constant support after birth were something I couldn't have survived without. Quite simply, I would have had an emotional breakdown.
The Group Practice also ran a weekly parents group, which was simply a friendly environment for new parents to bring their children and have a chat. If common issues or topics came up, a midwife would be on hand to discuss, but generally these sessions were just for socialising.
Due to my situation, this group formed a significant mental and emotional support network for me. But this set up was not easy to find, and I wouldn't have found it if I hadn't been so diligent with research. I'm well aware that it was above and beyond the support most women get from their health care providers.
I was also incredibly lucky with support from my husband. He managed to take two weeks leave after our sons' birth. We'd also consciously made the decision to live within walking distance of his work. Whenever necessary and possible, he'd go into work late, or come home early. If he knew I was tired, he'd bring work home at lunch time so that I could nap whilst he carried on with his day. If I needed, I could ask him and he'd watch the boys so I could go for a walk. Or attend medical appointments. Or just get some housework done. He gave me personal time, which was a type of mental support that I would otherwise not have managed. There are no words to say just how much his flexible work arrangements, and willingness to be at home with the children and me, helped me as an individual, and us to grow as a family.
Again, though, this is not something that many new families have access to. Yes, we purposefully set ourselves up in these circumstances. But not everyone can do this, nor knows that they might require it. Parental Leave for fathers seems to be accepted as one or two weeks. This is unfair to the family unit as a whole. Furthermore, flexible working arrangements in Australia leave a lot to be desired.
Recently, a few major companies have announced flex working for all employees. But the vast majority of fathers still have to work the 9 – 5 (plus the commute) then try and fit in family time around this, leaving little time and space to support their partner mentally and emotionally.
So while the proposed changes to Parental Leave payments are going to have significant effects on the financial support that some parents receive, there are many other types of support that new parents could be receiving but are not. Let's get discussions going around the multitude of ways we can support ALL new parents. Hopefully society will start to listen and adapt accordingly.