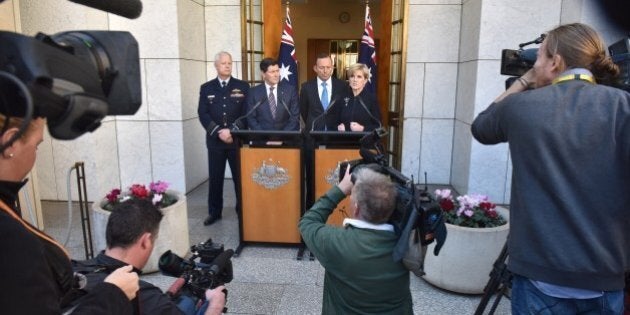 In his exit speech former Prime Minister Tony Abbott took a parting swing at the "febrile media culture" that he claims rewards treachery and "poll-driven panic".
Ironically, Abbott was feted by a News Limited-led cheer squad for much of his tenure. It was only when it became apparent that very few voters were being swayed by The Australian or by Murdoch's tabloids that the tune changed.
Perhaps the speed with which the majority of the conservative media abandoned a man who embodied their values underlines Abbott's point. Kevin Rudd said much the same about the media on the eve of his departure.
So is the media to blame? And is it dumbing down voters to a point where we are living in a hair trigger culture with no room for leaders to develop and explain complex policies in between opinion polls?
There's no question that the 24-hour news cycle has changed the game of politics -- although it emerged well over a decade ago now. The proliferation of media outlets and news platforms has also made journalists hungrier for content.
The game has changed. But the golden era of public deliberation that Abbott seemed to be gesturing to is arguably a mirage of the same white-male dominated monochrome culture that he represents.
It was an era when TV came in three channels and zero colours. A time when women still asked their husbands how to vote. More democratic? Ask Indigenous people what the 1960s was like.
The arrival of television in Australia and, with it, the opportunity for voters to see as well as hear from their leaders brought personal charisma into the equation. Prior to the Whitlam era, executive government was largely a sea of grey suits and university ties.
There's a fabulous ABC clip of Abbott's hero Robert Menzies waving away an early attempt to film and record him. "The impertinence" you can hear him thinking. Other early news conferences with Prime Ministers are hilariously deferential.
Today, every move, gaffe and wardrobe malfunction of politicians is gleefully tracked. Yet the extent to which most voters are actually influenced by the odd screw-up is doubtful. And when it comes to opinion polls I agree with 90 percent of taxi drivers who all seem obliged to tell me the same thing: "No-one has ever polled me, luv, so why should I care what the rest say?"
The real game changer -- and one that Abbott has failed to come to terms with -- is social media. Social media has given voters the capacity to make and distribute their own media.
Witness the lightening-quick strike against Operation Fortitude in Melbourne where our Border Force (renamed #borderfarce on Twitter) promised to stop strangers on the street and check their ID. It took only 48 hours of relentless satire and protest for a back down.
Therein lies the power of social media. It's not just chat -- it's a tool which lets people organise virtually. Perhaps even more powerfully it is a fabulous vehicle for making fun of banal politicking.
The traditional media might still be obsessed with opinion polls, and media commentators can bang on all they want about their own predictions, but the people are truly speaking. It turns out they have a sense of humour, they're mostly pretty smart and they've been seeing through this whole media and democracy circus for some time.
Malcolm Turnbull is the man most likely to succeed in this online and social media era. He gets it and has since the beginning. He's a social progressive. And he has our future in his hands.
Let's hope he knows where the restart button is.