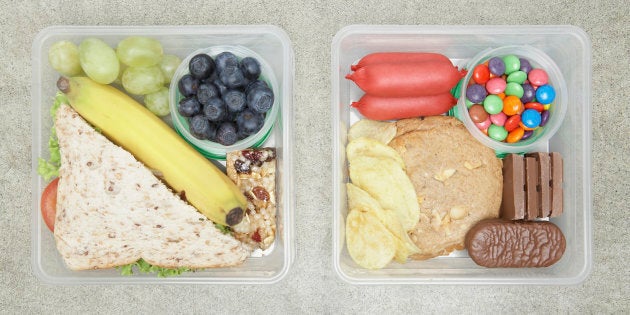 This time of year is something of an Armageddon for parents when it comes to sugary food. On one hand, supermarkets are upwardly embracing Halloween, with more and more ghoulish sweets emerging until the end of the month. On the other hand, retailers are already filling the shelves with Christmas merchandise -- and with that comes a big challenge.
I don't want to pull out the old, "back in my day", but when it comes to kids and food, it's hard to avoid it.
Back in my day, we went to school with lunch that consisted of a sandwich and a piece of fruit. I am not saying it was great -- it wasn't flash. It generally got squashed in the bottom of the bag, not to mention the smell of lunch meat in the summer. But the point is that treat food was exactly that -- a treat.
Pretty much every one of my classmates was a variation on the same, and you would have been hard pressed to find something in a package. Cake was a birthday treat and ice cream was reserved for impossibly hot days. Occasionally we would get a pack of lollies if we had done something special at school. Sugary drinks... I do have to admit they were a bit more of a staple.
Nowadays, I think one of the most challenging aspects of becoming a parent is managing the utter deluge of foods which are thrust in our childrens' faces at every moment.
Forget the "sugar-free, fat-free, salt-free check-out aisle"... I need the sugar-free supermarket.
Avoiding the aisle filled with chips and chocolate isn't enough when treats are appearing left, right and centre. When you try and do the right thing, your child approaches you like you are depriving them of everything good in the world, simply because you refuse to include some chips in the lunchbox.
As an example of how I'm doing, last week my eight-year-old son told me I had a big "lunch fail" at his wholemeal sandwich, milk and fruit combo. (I did include popcorn so was told that meant he would grade me a D not a D minus!)
I realise that parents right around the country are grappling with the exact same thing -- quite frankly it can be a case of you are damned if you do, damned if you don't and I understand how hard it is. Others think they are making the right choices, but marketing and confusing packaging hide nutritional reality.
There's a reason why we need to persist -- healthy eating habits are one of the foundation blocks to setting our children up for good eating habits. And in the long run, this pays off. But we can't do it alone.
Today is National Obesity Day, and I'll be honest, Australia isn't in good shape.
The most recent statistics estimated 11 million people aged 18 and over are overweight or obese -- that's 63 percent of Australian adults. 4.9 million Australians are obese. Just over one in four children aged 5–14, and nearly four in 10 young people aged 15–24, were overweight or obese. In 2013, Australia was the fifth most obese country in the OECD.
The Global Burden of Disease study identified dietary risk and high body mass index as the top two contributors to burden of disease -- even higher than smoking --linked to conditions such as cardiovascular disease, diabetes and cancer.
Frankly, Australia needs to get serious about doing something to combat this. During the election, Labor committed to developing Australia's first National Physical Activity Strategy.
We know from international experience that we need to build physical activity into the day-to-day lives of all Australians -- not just those who play organised sport -- for example, by encouraging people to stand and walk more.
But we also committed to introduce a National Nutrition Framework, to work with food producers and retailers to expand the utilisation of the Health Star Rating system, something Labor developed in Government.
Picking up the packet to read it is one thing -- we need to help people understand it as simply and as quickly as possible.
I'm okay if the Government steals these ideas -- in fact, I would encourage them to. We can't sit on our hands and pretend that this is a problem that will go away. Nor can we continue to blame the individual and the choices they make. We need to develop policies which recognise the cost of obesity and associated co-morbidities, and actively help Australians to change their behaviour.
There's no better time to make the change than now.