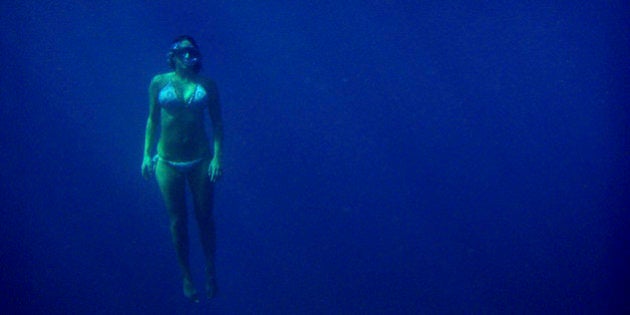 I'm out past the surfers when I hear the siren. My husband and I are ocean swimming off the Northern Beaches. Just the two of us. Our Sunday morning ritual is one of the reasons we love Sydney.
Looking up every now and then, I see my husband's silvery form splashing on the surface. Looking down between breaths, I can just make out the mottled shadows of the sea floor in the darkness and the deep.
It's addictive, being out this far. There's a sense that you can swim as hard as you want, in any direction, and still have further to go. It's complete freedom and I'm almost in a meditative state.
Then the alarm sounds again.
My husband hears it too and we stop, treading water.
"Was that the shark alarm?" I yell. "Should we swim in?"
"Maybe it was just a Nippers siren," he shouts back. Nonchalance in Speedos.
I had seen a lot of Nippers (trainee life guards) doing drills on the beach. He's probably right. I scan the water surface around us for telltale signs of fin or tail. I can barely make out the shore but I can't see people freaking out or swimming in, so we decide to keep swimming.
Let's freeze here for a moment.
This feels like a pretty normal decision to me, but I'm an Australian. I'm a beaches kid. I've swum with sharks before both accidentally and on purpose. But I'm also in the middle of the nation's most lethal few years for shark attacks on record.
Since 2014, according to the Australian Shark Attack File, seven people have been killed in shark attacks and 36 have been injured. For each of these 36 injuries, we hear the stories -- of circling great whites, massive blood loss, brave surfer mates diving in to pull someone ashore.
They're the type of stories that stick with you and stay in the back of your mind when you dive in. But here I am treading water 300m offshore, straining to hear what I think was a shark alarm.
My husband takes off towards the headland, our turn-back point, so I start swimming again. I clear my mind. Focus on the strokes and on breathing. I'll admit I do stay vigilant, scanning the void beyond my husband for the shape of a shark. But I'm not scared. This is who I am. I'm an 'ocean swimmer' in the same way some people are festivalgoers or skateboarders.
We swim almost to the headland when I see a surfer frantically waving in my direction. Suddenly, it feels real. I yell to my husband but he hasn't seen it. He's still powering away.
"Matt!" I yell. "Maaaatt!"
We link arms like otters and slowly make our way back to shore, trying not to splash. It takes a long time, but when we reach the surfers it's clear they were just skylarking, waving at mates. There was no danger. Next time there might be, but for the time being we reach the shallows and splash about.
The beach is my backyard. It's not as though I think a shark attack couldn't possibly happen to me in my own backyard, it's that I'm aware of the myriad of lethal dangers in my life. But I'm also aware that there's only one activity that gives me the rush and calm, the yin and yang, the ebb and flow of ocean swimming.
So I accept the risks, and I'll be out there next weekend, past the surfers, heading for the headland.