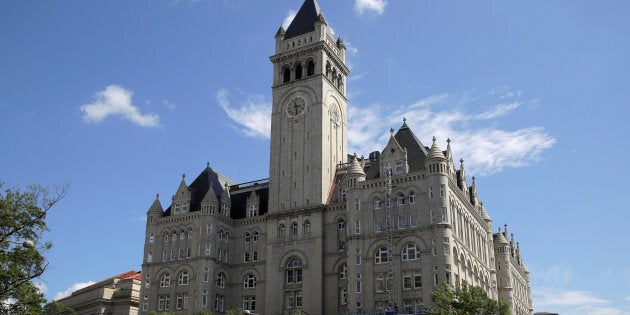 Forget the Washington Monument or the Lincoln Memorial, there's a new place that has just been added to the must-see list when you visit Washington DC.
It's the Trump International Hotel, DC on Pennsylvania Avenue. It was opened just two weeks before Donald Trump became President, and it's a must-see for all the wrong reasons.
When Donald Trump leased the building from the Federal Government in 2013, he was a private citizen, but now he's President, the building is a hotel, bar and constitutional crisis all rolled into one.
According to legal scholars, the fact that Trump is leasing the building from the Federal Government almost certainly puts him in violation the 'emoluments' clause in US constitution, which prohibits elected officials from receiving gifts or benefits from foreign countries.
The fact that Trump Hotel now receives foreign officials from around the world, and charges them a small fortune to stay there (rooms start at $US545 a night), means that Trump is, in effect, receiving money from those governments. Which is a unconstitutional slam dunk. A gold-gilted one.
Frightful Dump
Vanity Fair describes it, a bit unfairly, as a "frightful dump" -- a "chintzy, Romanesque reimagining" of Washington DC's much-loved Old Post Office Pavillion. On one level, it's got a point.
Since the election, you can no longer enter the Trump International Hotel from the front, which is now lined with two rows of portable steel barriers. On the day I visit, a lone Latino security guard who hadn't been deported yet was patrolling the front area. He paces in a way that gives you the distinct impression he's trained in some sort of vicious street fighting martial art that would make an Immigration Officer think twice about asking to see his papers. The gun in his holster probably also helps.
Nowadays you enter at the side in 11th Street, where there is a narrow cul de sac serving as the receiving area for cars. A litany of black Volvos, Audi and BMW are unloading their passengers and copious luggage as I pass. The concierges are all African American men, all dressed in black top hats and tails, with white gloves. The effect is minstrel-esque.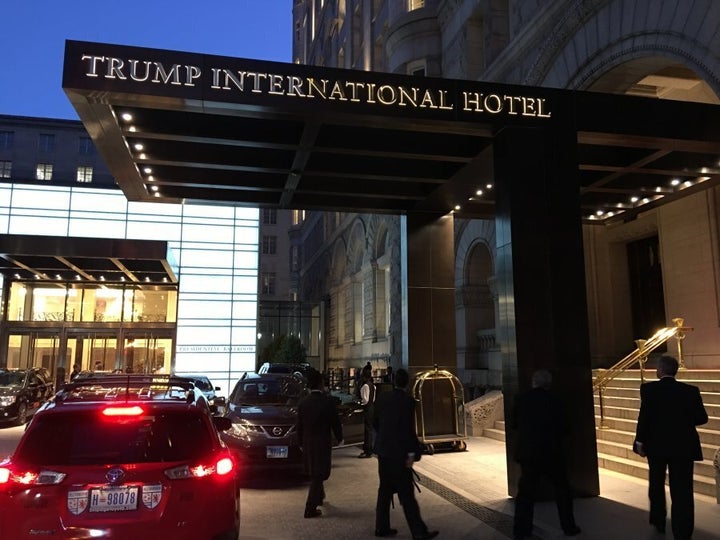 The lobby inside is cavernous. The floor is brown marble, freckled with white, interrupted by deep pile carpet, all with trademark gold accents, of course. At one end is a lavish bar with three Methuselahs of Veuve Clicquot at the top of an impressive array of bottles of wines and spirits. Above the top shelf spirits are six extra rows of shelves with empty decanters. I count 400 empty fine crystal decanters sitting in front of the mirror-backed shelves, creating an impressive sparkling effect -- a massive chandelier wall. The stunning effect is destroyed only by the presence of four large flat-screen TVs tastefully mounted slap bang in the middle of the shelves. Three of them play sports channels, the fourth is reserved for Fox News.
It's Buckingham Palace meets sports bar.
Like most palaces, but unlike most sports bars, there are four giant chandeliers hanging down along the middle of the lobby, with two smaller ones lighting the sides. Presumably to support the structure, there are steel beams, painted a dull mustard, again going all-in on the gold-gilt theme.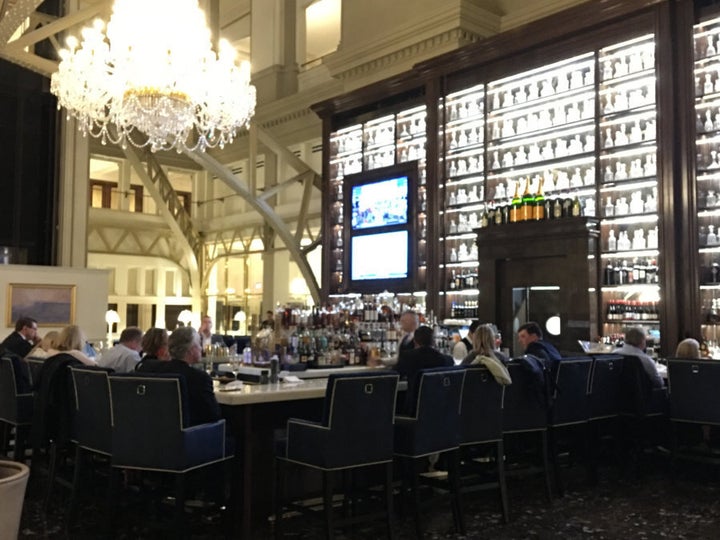 Okay, I admit it sounds a bit awful, but somehow it works. The armchairs and couches that are spread through the lobby bar are all various shades of blue, all with gold gilting.
Sure, it's not what I'd choose. And certainly, I'd divorce my wife if she ever wanted to kit out our house like this, but perhaps because of the grandiosity of the Old Post Office Pavillion itself, the effect kind of works. Put it this way, it's a definite step up from Trump Tower in Fifth Avenue. There, the gold is blinding. Here it's just a very, very prominent highlight.
Benjamin's Bar
The lobby bar is called Benjamin's Bar, named after the noted inventor. When I arrive there, though, it's half empty, and every single table has a small gold-gilt placeholder on it reading 'Reserved'. I ask for a table for one, and the maître d' takes me to a small marble table, whisking away the 'Reserved' sign. I get the distinct impression that if I were somehow too 'diverse-looking', I might find that all the tables really are reserved.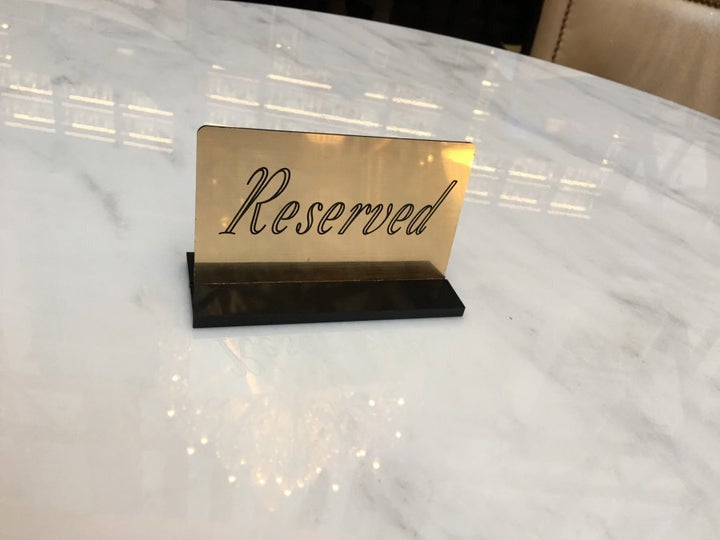 The menu notes that "Benjamin Franklin's mind was never idle as he continuously looked for ways to improve life", clearly implying that Donald Trump himself somehow shares these qualities with the founding father. That somehow Trump's inventiveness in placing his brand on things somehow is as impressive as Franklin's actual inventions.
Before I get a chance to study the rest of the menu, a cheerful woman in a pink pullover and blue jeans comes over to plug her Samsung phone into an array of power points tastefully embedded in the carpet, and, like every other fitting, gilt in gold. She introduces herself as Cherise, from Florida.
It is the day after Wikileaks revealed that the CIA had successfully cracked Android phones, and developed malware for Samsung TV, allowing them to eavesdrop using people's own devices. Worse, once the agency discovered the vulnerability, they didn't inform the manufacturers, but left it open so they were able to exploit it, leading to questions of whose side the CIA is on.
When I ask her whether her phone was being hacked by the CIA, her demeanour turns from bubbly-retiree to dour informant. She leans in and earnestly tells me that she has turned off the phone's microphone and camera settings in order to circumvent the snooping.
Then she says: "I've got nothing to hide. They should try snooping on me, they might get surprised!" She bursts into laughter and waddles back to her table. I briefly look at her phone and consider snooping on it. It feels like the American thing to do. And she did say she had nothing to hide. Ultimately, I desist.
$20 for a cup of coffee
I was planning on just having a short black, but at US$16 (AUD$20), I decided I needed a stiff drink instead.
The signature cocktail -- The Benjamin -- catches my eye. A mix of Belvedere rye, Chopin potato, Elyx winter wheat vodka, raw oysters and caviar -- it sounds terrible. It costs US$100. Yeah. Nah.
Instead, I order a small glass of 2015 Trump Chardonnay from Monticello Virginia (US$18). The waiter tells me it is just 50 miles from the hotel -- a region, he adds, not noted for its wineries, "but there are some".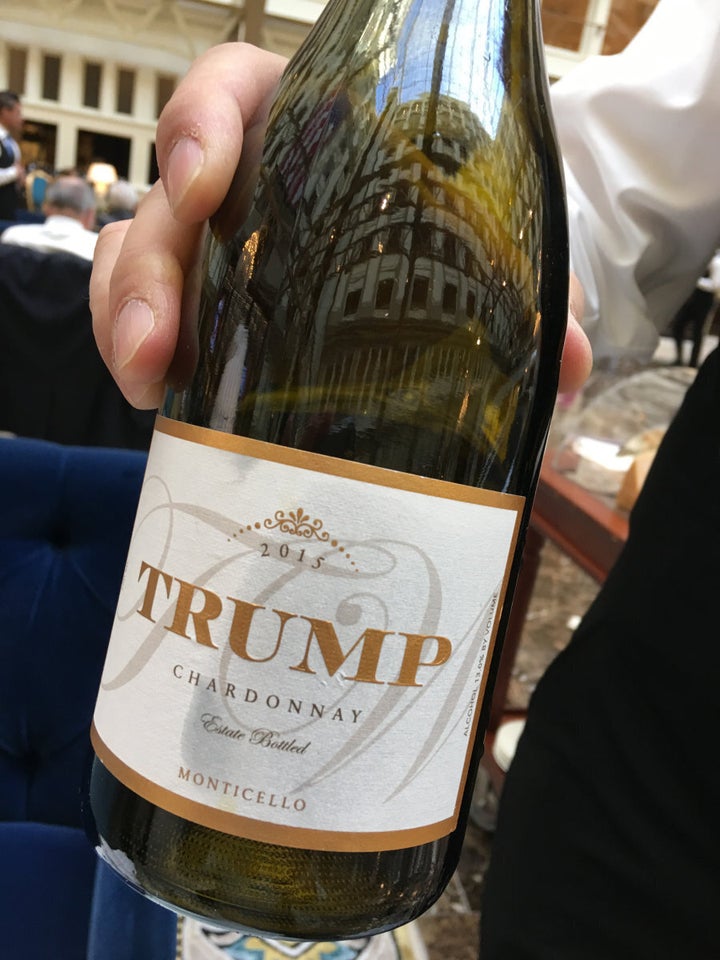 The Trump Chardonnay is the best wine I've ever tasted. Sure, it's unbearably sweet, and it tastes unlike any Chardonnay I've ever had before, but it's Trump Chardonnary, so it's the best. Really, really terrific. The best.
For food, I order the smashed avocado on toast, a decision I almost immediately regret. I will now be unable to afford a deposit on that Sydney property I was looking to buy.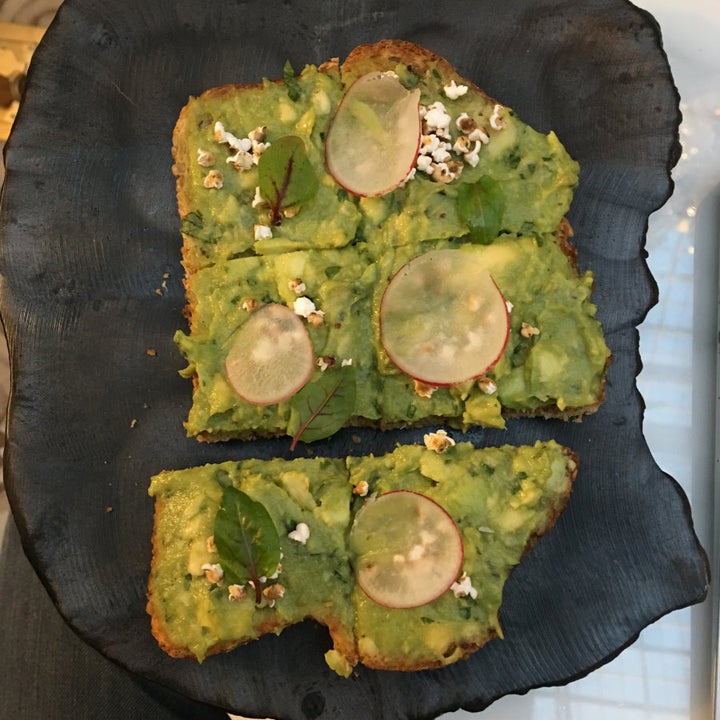 Locals hate it
Talk to any local in DC and they'll probably tell you they've avoided the new hotel. For a start, there was outrage when Trump won the lease back in 2013, as people worried -- with, it turns out, good reason -- that Trump would somehow transform their beloved Old Post Office into some garish gold-gilt monstrosity. But since its opening in October, it has also become a focal point for many a snap rally or protest. The rumours around DC is that nobody goes there, and that the place has become a half-empty wasteland. A metaphor for Trump's America.
And it is, but not in the way they expect.
By the time I've worked my way through the lolly-water wine, the bar has completely filled up. It's happy hour at the Trump Hotel, and it's a pumping place.
As it turns out, the place has become somewhat of a mecca for domestic tourists, keen to get a glimpse of the Trump phenomenon, drawing full crowds to its lobby bar, night after night. And the surprising thing is, the patrons aren't all fans. I speak to one family from California, on vacation to DC, who are quickly appalled by the idea I would out them as visitors to the hotel. "We just needed to see it," said the wife, who refused to disclose her name for fear of embarrassment and ridicule among her friends back home.
If the place is a metaphor for anything, it's the enduring fascination that Americans have with Donald Trump. Not necessarily supporting him, yet unable to look away.
The latest issue The Chaser's America is out now in all bookstore and at chasershop.com.
ALSO ON HUFFPOST AUSTRALIA