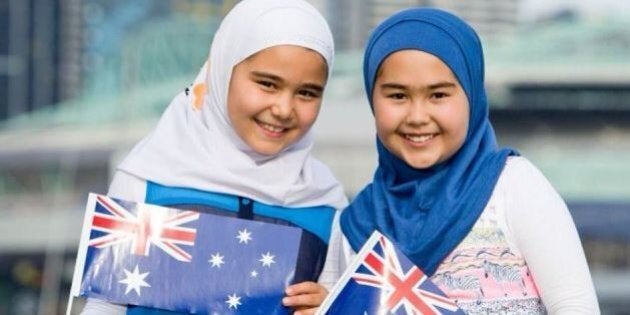 A hand-written sign with the words "we don't yell to sell" hangs off a meat hook above the counter of a butcher's stall at the Queen Victoria Market. Beneath it a laconic butcher goes about his business dissecting meat and calmly arranging the 'cuts' in the display section of the family business.
On top of the counter stands a framed sepia photograph of the original shop taken by a box Brownie from across a dirt road at a time when the present shoppers weren't even born. It shows a bearded patriarch of Anglo decent in his butcher's apron in front of his newly established business with his wife and sons beside him.
The picture reminds us of a time when anti-Chinese laws and the White Australia Policy declared that people of non-white extraction were a threat to mainstream Australia. This could mean wrongful arrest, commitment to a mental health facility, forced vaccination, eviction from their farms, or being refused permission to re-enter Australia.
Today the butcher quietly goes about his work, unperturbed by the cacophonous cut-price Asian competitors that occupy one end of the meat precinct. His taciturn yet amiable manner harks back to a time when children were seen, not heard, and when new Australians huddled in their Victorian cottages not too far from the Queen Victoria Market communicating quietly in their old tongue so as to not offend their Anglophone hosts.
Today, the deli section of the Queen Victoria Market hosts gregarious Greeks, Italians, Germans, Poles and Lebanese vendors who confidently spruik their produce and engage in friendly banter.
I can picture aging champions of multiculturalism ushering international guests through the aisles of today's agora pointing to roma tomatoes, asparagus spears, broad beans and root vegetables grown by ethnic market gardeners throughout regional Victoria and sold by vendors of varying cultural decent as affirmation of a multicultural initiative introduced by the Whitlam government over 40 years ago.
Take a drive along Brunswick's Sydney road and you will encounter shop owners trading in merchandise that was once the province of Middle-Eastern bazaars.
These days, you will need to go further afield to witness the tangled roots of Australian multiculturalism. Head north to Brunswick and you will get a clearer picture of how far we've come since the box Brownie photograph.
Take a drive along Brunswick's Sydney road and you will encounter shop owners trading in merchandise that was once the province of Middle-Eastern bazaars. Visit Balha's Pastry shop, and you will see assistants in hijabs serving Arabic sweets by the kilo to customers dressed in thongs, sandals, boob tubes, niqabs and Nirvana t-shirts.
Take a walk along the shopping strip that was once a marshy plateau that the Wurundjeri people called boort moornmountbullarto or 'very windy' and you will no doubt notice the many Halal butcher shops that line the long street.
A recent conversation with a Sudanese shop owner, who happens to be married to a Greek, had him laughing at the mention of Pauline Hanson, suggesting that it is the 2.2 percent Australian Muslims who should be worried about being swamped. As he reminds me, it was Hanson's party that secured 4.3 percent of the national vote in the last federal election.
Take a longer drive to Melbourne's Dandenong market and you will get an even better feel of what it means to live in what must be one of the most ethnically diverse spots in the world. It is here where children, the elderly, mothers and extended families of multifarious backgrounds dress freely and speak as they wish while they go about getting food to put on the table.
There is no pretence, no animosity, no danger, and no intolerance in a place where there is no single dominant cultural group -- unless you happen to visit the popular Anglo fishmonger who displays a sign that reads "price may alter in accordance with customer attitude". No one in the queue pays much attention to the sign, even though the women behind the counter look as if they mean it.
And if you happened to be driving out of Dandenong along the South Gippsland Highway last week, you may have noticed a billboard with two girls in hijabs promoting Australia Day celebrations.
It didn't last for long. It was taken down after threats and abuse were directed at the advertising company.
The United Patriots Front led the social media blitzkrieg by claiming that the billboard was just another state-sponsored attempt "to redefine your nation and gradually erase you from history." But as those who have lived in culturally diverse communities know, any attempt to reclaim a past that was once bleached white is as futile as trying to restore a film negative after being exposed to light.
Best enjoy the light and colour that diversity transmits.
Scantily dressed women, Lycra-clad cyclists, blokes in 'wife beaters' and 'patriots' parading in capes fashioned out of our flag is a distinct feature of the Australian public landscape. Just as nuns, muftis, monks and Sikhs promenading in respective garb occupy a small part of Australia's rich tapestry.
We are free to criticise, poke fun and turn our back on what we don't like, but we cannot extricate it from the public space.
We may not like certain aspects of this picture, but all we can do is tolerate it, much like how we put up with shopping mall Musak or billboards advertising longer lasting sex.
We are free to criticise, poke fun and turn our back on what we don't like, but we cannot extricate it from the public space.
This is what it means to live in a multi-faceted, culturally diverse, free and open society that allows all views, beliefs and cultural practices to manifest.
And this is what Australia looks like today.