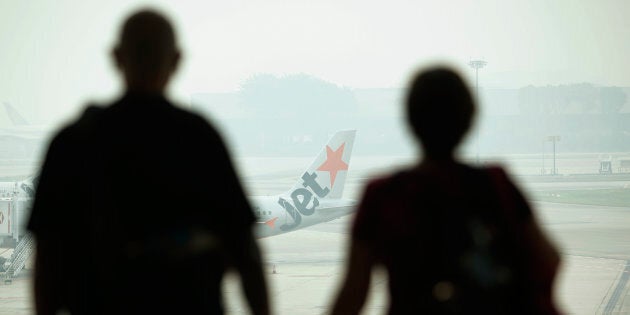 Jetstar has been voted the world's worst airline in a global survey based on the customer satisfaction of 11,000 passengers. But until they drag me from my seat and bloody my face because they're overbooked I will happily come fly with them.
I'm shocked that they've crashed and burned in this survey, mainly because I lived overseas for 10 years and flew some of the dodgiest airlines in the skies. Airlines that make Jetstar look first-class in comparison.
Okay, they've had their share of PR disasters, such as the time one of their cabin crew asked a female passenger 'how many weeks' she was. (By all reports there was a pregnant pause before the passenger informed the male attendant that she wasn't actually expecting anything other than being able to board her flight without being insulted.)
But whether you're sipping sav blanc in business class or squabbling over the armrest in economy, fly even the best airline enough times and some sort of grievance will rear its head.
Commercial aviation has become a mundane miracle and it's a compliment to the industry that passengers complain about flight delays.
Airlines rarely make the news for good reasons. Like banks and telcos we trash them whenever possible. And while they are all worthy of criticism on occasion, I can't help but think we are often too quick to condemn those magnificent men and women in their flying machines.
I was flying from Singapore to Sydney on one occasion when the captain announced a 40-minute delay. This otherwise unremarkable man with stripes on his shoulders was transporting several hundred lives plus their luggage in a class-conscious rocket across oceans and deserts, even smouldering volcanoes, yet when he announced a minor delay we groaned in unison and questioned the morality of his mother. We may have been shoved in like sardines, but there was still enough legroom for a kneejerk reaction.
Commercial aviation has become a mundane miracle and it's a compliment to the industry that passengers complain about flight delays. Inconvenience is based on frustration of expectation. The fact we expect airlines to be punctual (and moan when they're not) means more often than not they're on time.
But when we're jetlagged, flatulent and fed up with polystyrene food, we sometimes forget the operational intricacies of flying people around the planet. Given the nature of the task, something will invariably impinge on the perfect trip from A to B, if not a delay then a seat that won't recline, a dodgy headset, a leaky loo...
If you think things are bad in Australia, try flying around Europe's crowded skies. Sleeping pill at the ready, I was checking in with Alitalia for a marathon flight to Sydney via Milan, Frankfurt and Singapore.
"Are you absolutely sure you want to check in your luggage?" asked a Monica Bellucci lookalike. "We've been losing quite a lot lately."
On a Ryanair flight from London Stansted, I was sitting in the front row (which on any other airline might sound glamorous) when we pushed back from the gate right on time. But elation turned to alarm when the passenger beside me pointed out the window and shouted: "Stop! The stairs are still attached!"
The Polish stewardess banged frantically on the cockpit door and the pilots hit the brakes thinking Bin Laden was on board. The stewardess opened the forward door, the aerobridge was pushed clear and we started over as though nothing had happened. Which it hadn't. No one even filled out a form.
Some airlines think of everything to counter the potential for fear of flying. Others don't. I once booked a trip with Alitalia from London to Palermo. I paid online, printed my e-ticket and was shocked to read my booking reference number: Z75DIE. I am surely the only passenger in the history of aviation who has been spooked by his receipt.
In my opinion Australian airlines, including Jetstar, are the best things in the sky other than birds.
On another Alitalia flight (are you picking up a theme here?) during take-off from Rome my view of the Colosseum was obscured by a spider in my window, clinging to its web, waiting on a passing insect and counting its Frequent Flyer points. I thought aeroplane windows were supposed to be airtight. With the Vatican passing beneath us it felt like the right place to cross myself.
For some seasoned travellers, waiting at the baggage carousel inspires more fear than the flight itself. More and more budget airlines are charging passengers for the privilege of losing or damaging their luggage. It's happened to most of us, but for me this was a first.
The relief of seeing my suitcase on the rubber serpent turned to horror as I realised the lock was smashed, the case was open and only held together by an improvised combination of sticky tape and occy straps. Closer inspection revealed other people's personal effects among my own, including a harmonica and a fedora hat.
Had I shared a flight with Bob Dylan?
I'd recount some negative anecdotes about my experience with Jetstar, but despite flying with them on numerous occasions, I don't have any.
In my opinion Australian airlines are the best things in the sky other than birds. Yes, flights are often late, staff are sometimes rude, luggage frequently goes on longer holidays than its owners... But after winging it in European skies for so long I can assure you that such inconveniences are the least of a passenger's problems.
ALSO ON HUFFPOST AUSTRALIA