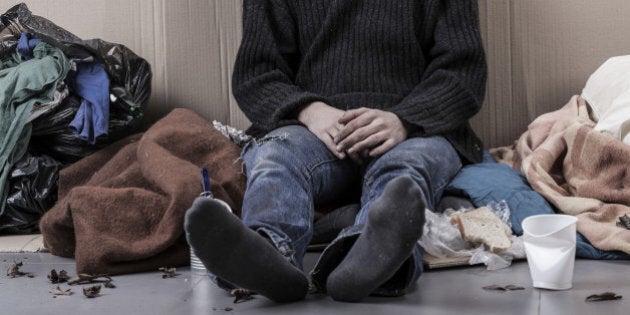 Every January I go homeless for a week. It is a challenging and exhausting experience that gives me an insight into the realities facing the poverty-stricken. I don't do this for fun or to mock, but to inform and spread an understanding of modern Australian poverty.
Earlier this year I was thinking about what we could reasonably do to support homeless people. Guided by the knowledge that 80 percent of all homeless people access one of the major service providers -- The Salvation Army, St Vincent de Paul, The Good Samaritan and the like -- what could we do together to help them?
In discussions with services and homeless people we started to look at the role of health in supporting homeless people. I struggle to do anything when I have even the faintest hint of a cold, let alone having to figure out where I will be sleeping or eating next.
So a couple of months ago, Street Smugglers, the homeless advocacy and education organisation I co-founded, gathered some volunteers to speak with homeless people about their experiences of being homeless. The homeless people we engaged with were male and female, from all different ethnicities and ages. What we found was concerning -- 63 percent had not seen a healthcare professional in at least two months, and 21 percent hadn't seen a healthcare professional in over six months.
What we also found was that homeless people feel isolated and distanced from hospitals and other healthcare institutions -- they feel unwanted and as if they are a burden. We learned that homeless people are unwilling to seek healthcare even in serious cases.
I guess we should consider what this says about our society. I cannot fathom that in modern Australia, one of the wealthiest and effortlessly egalitarian societies on Earth, poverty still exists. How have we allowed this to happen? Why do we not support those in need better? Couldn't we all give just a little bit more to save the pain of a few?
We all want a fairer and more inclusive society where we can all prosper, because poverty pushes our buttons. It shows that we aren't as equal as we would like to be and that people are overlooked and their talents are wasted. Homelessness is the physical realisation that some people cannot prosper in Australia.
I am often asked how we can begin to change this, what can an individual do?
The structural issues that require distinct funding to work one on one with those in need are massive undertakings that require government and community investment.
On an individual level, making a connection to homeless people near where we work or live, or even just saying hello, can make all the difference.
But I want to start to focus people around the health challenges that face homeless people.
If you speak with homeless people, ask them what they need from a pharmacy. Ask homeless women if they need sanitary items, or if they need band-aids or pain killers.
When we all start caring about those in real need around us we can make an impact.
And that starts with making sure we are all healthy.