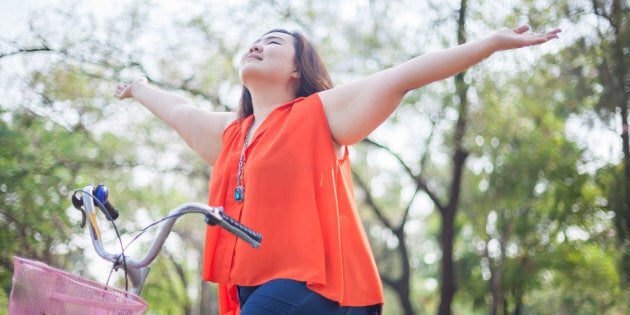 It was recently made very clear to me how far I have come in the body image war I have succumbed to for decades.
It became clear when I was exposed to judgements, which were harsh and directed solely at me, about my body not being the size it was before I had baby number five. Judgements about it not being slim enough. Judgements about it not being as attractive as it used to be... yes, seriously. I was told that I wasn't trying hard enough to 'get it back' and that I needed to eat less (hint: one meal a day) and exercise more (hint: up to a couple of hours a day).
Really? And all this from a man.
I sat and listened for 45 minutes to a man talk about my body. It was painful and it actually really hurt my feelings... Yes, I have feelings. To think their opinions about my body were more important than my own opinions about my body left me flabbergasted. It pissed me off because I had to defend my body like it was an object up for discussion and it gutted me because I have finally, finally,embraced what I have in all its womanly glory. It frustrated me that the doubt, the ugliness of body hate, still managed to creep its way back in, briefly.
I am not going to lie to you and tell you how fierce I was during this discussion. No. I am going to tell you the truth. I went to bed and I cried.
I am not going to lie to you and tell you how fierce I was during this discussion. How strong or how awesome the comeback I had was. No. I am going to tell you the truth. I went to bed and I cried. Not a lot, but a little.
I cried silently to myself because I felt humiliated and angry that my body could be put under a microscope like that. I cried because it brought up instant dread of being stuck as me, in this body, even though I no longer despise it.
My body was not only scrutinised but it was also measured against my husband's body. My body that is nourished with healthy food, rarely has toxic drinks poured into it, never faces internal rotting and decay with soft drink and is regularly nurtured through physical exercise was compared against a man. A man whose body, which obviously appears slimmer to the judiciary, is exposed to litres of soft drink, buckets of lollies and rarely sees any exercise -- unless it is his annual 56 km charity walk. I am not husband bashing here either because my husband is a very physically active man but to compare us, to compare our bodies, is absurd.
My body has housed five babies, lived through over 200 weeks of pregnancy, suffered depression, been tortured with diet after diet, been starved and then stuffed full for emotional protection. It has been through grief and stress and yet it is curvaceous, it is healthy, it is nourished with goodness and it can walk, stand, jump, hug, hold and move without much fuss (or pelvic floor stability -- lol). It is pretty f**king amazing.
The whole 45 minutes was awful, it was embarrassing and it made me feel very self conscious about every move I made thereon in.
But -- and this is a big but -- I overcame it.
A few years ago that kind of conversation would have destroyed me. I would have starved myself for a few days and then binged for a few more. I would have beaten myself up until I was black and blue with nasty self talk, daily mirror bashing and thrice daily body weighing, followed by uncontrollable crying.
My anxiety would have been through the roof, leaving me with panic attacks and unable to leave the house without hours of trying on clothes that would cover up all my unsightliness. I would have chucked all my shorts, figure-hugging dresses, skirts, and sleeveless shirts in the I-can-never-wear-these-again pile and I would have cried for days.
But I only cried a little. Then I put on my mum-of-five-appropriate short shorts and I got on with my life. I ate as I normally would, which for those of you judgement-focused people out there is actually balanced. My anxiety remained level and there was no beating up on myself at all. I'd even go as far as to say that this 45 minutes was actually a blessing because it taught me so much about myself. It taught me that I actually do love my body enough to accept it in times of examination. To accept it regardless of anyone else's opinion of it. It taught me that I am miles ahead of the body hater I once was and this is good news. No, it is GREAT news.
I know that I am healthy and I know that for some reason this weight is just where my body wants to hang out at regardless of what I am doing for it right now. I own this.
I've surrendered to the image-focused world I live in and to the people who feel they have the right to make decisions about me based on my body. But my surrender doesn't come feebly -- it comes from power. This is me. This is my body. This is what I am most proud of. It's done me good. It will continue to do so and I know without a shadow of a doubt that when I die I will NOT ever question, care or have any concern for that kilo or 10 I thought I had to lose just because society said I did.
I've surrendered because somebody else's opinion of my body doesn't matter. I've surrendered because I know how I care for my body. I know that I am healthy and I know that for some reason this weight is just where my body wants to hang out at regardless of what I am doing for it right now. I own this. I own this body I am in and there is no shame in my body whatsoever.
Sadly I know I am not alone. I know there are so many people out there that are body shamed daily who are still where I was a few years ago and so I want to say this to you...
If you don't stick up for yourself, who will? If you don't support your body and all of its amazing physical capabilities and glory, who will? Who will have your back (and front and cellulite and butt)? Nobody can have it better than you. Only you can pull those shoulders back. Only you know that your body is nurtured, looked after and loved. There is only one person in your body's world that has any importance -- YOU. You and you alone have the power to surrender to the ridiculousness of this image-focused world and truly shine as your unique self.
Find the love within. Your body can do amazing things, and it does them without you even having to think about them every single day. How f**king lucky are we?
ALSO ON HUFFPOST AUSTRALIA